Bra extenders are little rectangular nylon accessories with hook and eye closures. They are manufactured to prolong the life of your bra - in theory. They are not meant to prolong the comfort you should have while wearing a bra. In fact, they get more bad reviews than any other lingerie accessory. Lets just straighten this out, why you shouldn't buy them. Bra extenders are really an old school bra problem fix and as women become more conscious of what the bra is for and that it is not meant for suffering, they should not even consider them. If you ever looked for one, it was probably because somebody who never owned a comfortable, well fitted bra, told you bra extenders exist. Bra extenders were a solution in the 70s or 80s, in the dark era when nobody would be able to explain what actually bra fitting is. Those were the times when women didn't wear bras too often...
Fixing the Bra Band Only is Not Enough
A well fitted bra is a bra that is chosen correctly according to your true bra size and bra style and picked just for you. Bras that are worn everyday for longer than 6 months do stretch out which is its natural behavior. That's when you need another bra to maintain the best comfort and polished look. However some bras start to feel tighter as a result of: you gaining weight or loosing skin elasticity. This doesn't happen overnight, don't worry). Gaining weight means you just gain more fat or water in your rib cage area. Using a bra extender, yes, it will add extra inches to the band, but it will not change the size of a bra cup for heaven's sake. There is not such thing for women as getting extra inches under bust and keeping old breast shape. Those who defend bra extenders are women who never had a properly sized and fitted bra and they don't see a difference in comfort when using bra extenders. Once you own a bra with a perfect fit, you will not want to ruin that feeling. What to do? If after a while a bra gets too tight in your underbust area, go get advice from a bra fitter and buy a new bra.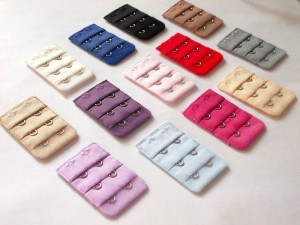 Customer satisfaction
If for some reason you are looking for a bra extender for a brand new bra that is so beautiful, so cute, so well priced and so comfortable only if the band was looser - you are very wrong. The bra is not worth your money. It is worth the money of somebody with a smaller chest. Think about it - you will end up with that brand new, cute, one of a kind bra ruined with an ugly and poorly fitted bra extender (yes, even though they try to advertise them well, bra extenders are not custom made, they come as slimmer or wider than your bra band, lighter or darker in shades than your original bra, hooks positioning tends to be different). Most women describe them as "not what I have expected"). Also, ask yourself: How much do you like to buy other clothing merchandise that you need to fix right away in order to wear them with satisfaction? How many times did you regret you made such purchase, because you were never happy afterwards anyway? Why would you want to go through that headache with a such delicate and intimate apparel as your underwear?
Shrinking Bras
Some women complain of their bra had shrunk in the wash and now they need a bra extender to fix the tight band. Ladies, if the bra band shrunk in the hot water, it means the bra is garbage ready. That's why it's so important to follow wash care instructions, never treat is with hot water, and actually avoiding laundry machines (some bras are ok in a washer if you use a mesh bag or a pillow case, but be careful). When the fabric gets damaged it gets damaged all over, in 98% chance the cups got smaller too and you just like your bra too much to accept that fact.
When You Really Need Bra Extenders?
If you are a woman who loves paying $20 for a poor quality bra made for 50 cents in China fabric, you can spend another 50c for a bra extender. It will not make a difference and you will not feel the comfort anyway, either before or after the purchase. You loose nothing. But if you ever wonder what wonders can a quality bra make, do not be afraid to change your shopping experience, the bra will last you much longer than you think - and these are the real savings.