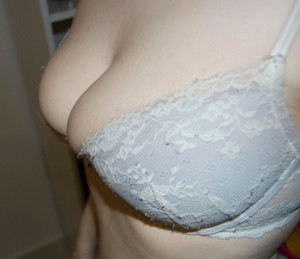 There are two things that are universally just plain wrong: taking your Ferrari to a cheap mechanic and putting your stunning rack in a cheap bra. While the Ferrari bit might be clear to everyone, most women aren't completely informed as to why they shouldn't buy cheap bras. Respect that bust! If you're a woman with curves you know what it's like to have special needs right? Well this is just one of those special needs. If you can buy expensive dresses specially made for your size, why buy cheap bras when they matter just as much your clothing? A well endowed woman knows that it is absolutely impossible to hold up a heavy bust in a cheap bra.
The gift of curves and a heavy bust goes hand in hand with an expensive delicate hand, care and nurturing. Buying a bra is by no means a simple task, it is complex ladies, might even be such in your entire wardrobe. It is not a simple task to hold up (also flatter, off course) several pounds of beautiful feminine flesh, with just a combination of lace, cotton and curved wire. You thought shopping for the perfect shoe to match with your clothes was difficult? Try shopping for a bra for busty women.
Spare no Expense for Your Bust
Some of the most expensive bras for busty women undergo a process of complex manufacturing. If it were not of their costs, recovering from the high minute rate and high end investmeant into design, manufacturing, technical resources, work force and quality processing would be absolutely impossible. Let's consider a bra that costs up to $80, you can probably buy an inexpensive wrap dress for the same amount right? Then does it feel like wasting your money? Well, it shouldn't because while a well-spent on bra will give you're a dreamy look under any dress, even the most expensive dress will lose its charm if worn over a cheap and ill fitted bra.
Go Seamless for a Flawless Bust
If you're a busty woman you've got what many women do not then you'd probably need to buy differently as well. What type of bra is best for you bust? It's the seamless bras! Not only will seams make it all possible for you, they will add reinforced shape and support to your bosom. The seamless bras are about to become the best clothing item in your entire wardrobe with their near perfect conformity and natural shape. These slightly costly seamless bras are going to give your bust the care and shaping that it truly deserves. If you've got something special you need to treat it specially as well!