There is a reason, why bras have 2-3 back bra hooks, placed in 2 to 4 rows to fasten your band. Multiple bra hooks are not there to pick frivolously which one you want when clasping your bra. First row, called the loosest adjustmeant is there to use at the momeant you buy the bra. Tighter adjustmeants are there to use after a while, when the bra band stretches during the course of its use. It is a great feature in bras to be able to wear a bra up to 6 months and still get the tightness you need for proper bust and back support. A common bra fitting mistake women make is to try on a bra that has a band size too loose and use the tightest bra hooks to close it, as compensation. If you buy a bra that was tight only with further adjustmeants, in 2 months you will end up with the very same bra being completely too loose, and there is nothing you can do about it.
How to use bra hooks effectively
Once you buy a bra that can be clasped on the loosest bra hooks you should feel that the band does its job where it's not too tight (you can breathe) or to loose (you shouldn't be able to place two fingers behind the band only).The bra band shouldn't allow for any side movemeant of your breasts and the front center bridge should not stick out forward away from your skin. Properly fitted bra should not be able to move sideways and the band should be tight to the body. Once you wear that bra for a while and have washed it couple of times it is natural for the band to stretch a bit. When you start feeling that the bra is loose after using it numerous times, it is time to start wearing it with the middle hook and further down the line, step up to the tightest hook.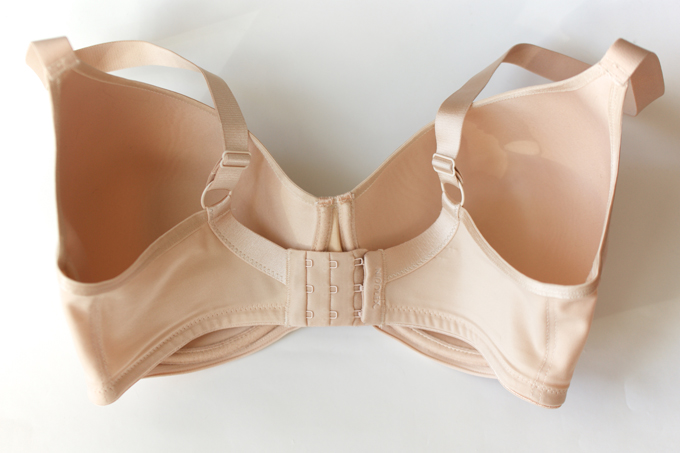 Bra clasped at the loosest adjustmeant.
Bras have elastic bands and with wear they stretch. Manufacturers know about this issue and that's the reason why they add multiple bra hooks to the closure part of the bra. By no means are these bra hooks made to compensate for bra size during the measuring process. Recently I have been to a specialty bra store, where I was told to try on a smaller sized bra and see if it fits. I did what everyone should do - I walked out. The bra fitting process has its rules. If you see that a bra fitter tells you to buy something that's not your size, you should know that the sale is more important to that person than your well-being. Badly fitted bra may lead to back pains and other complications so as part of the bra fitting, make sure that you are comfortable with the loosest hook during your purchase. Remember, loose bra does not mean it's comfortable, it means is just less supportive. Make sure that it fits you like a glove and does its job at supporting and hugging your body. For further reading check another bra expert's opinion.