Most of you know in general what is a bra and what bra parts make a bra. But how many of you actually know, how many bra parts a bra consists of and what are the purposes of each part? As some bra stores already offer bra fitting services, most of them limit themselves to giving you an estimate of what is you bra size. When it comes to bra styles and their different bra parts, you are often on your own. You should know by now what bras fit you best right? But what if you never came across a style that is best possible for your body and breast type. How would you know if you never experienced a perfect fitting bra. Women with larger breasts tend to know better what they like in a bra and look for parts of a bra that match their needs. Why? When with small breasts most bras kind of fit, women with DD+ cups understand that comfort and durability comes first. Below I have listed bra parts you can find in a bra and the role each one plays:
Bra Parts and Their Role
1. Apex It's a bra cup part where a cup is connected to a shoulder strap. Bra strap can be sewn to the bra cup or attached in a removable way. As this is a part of a bra that shows extra seams that hold two parts together, some brands place a little satin ribbon to cover it and to make a bra look more appealing.
2. Straps Bra straps or shoulder straps are there to provide 10% of a bra support and shouldn't "carry" your breast. They make sure the cup fabric lays evenly on your breasts and sheer or lace fabric doesn't wrinkle. Always adjust bra straps at the end when you have the bra in correct place, adjust them to the point you can slip only two fingers between a strap and a shoulder. In bigger sizes bra straps should be wider to offer better comfort. Nobody likes spaghetti straps dig into flesh. Strapless bras are bras that you can wear without straps thanks to silicone strap on the inner band. Other styles might have removable straps, which can be replaced with clear ones if you plan on showing shoulders in a sleeveless dress.
3. Adjuster It It is located on each strap. You can use it to adjust a strap, make it longer or shorter. Some styles have fully adjustable straps, it means you slide the adjuster up and down the entire strap length. Straps in some bras you can only adjust half way. Bra straps stretch too, it is always more practical to be able adjust to the point you need, not to the point the bra allows.
4. Hook and Eye A bra part you use to fasten your bra, usually located on the back. It can have two, three or four rows and two, three or four columns, but when you buy a bra, the loosest adjustmeant is what should make the bra feel tight to your body. Tighter adjustmeants are for later, when the bra feels too loose. Usually after 2 months in is time to use second adjustmeant. "Tight" means you can pull the back of the bra only at about 2 inches away.
5. Cups Bra parts that your breast is placed in. They can be unlined or lined with another fabric to create more form, they can also be foamed. While with foam cups you can hide wrong fit or size, unlined bras need to be fitted perfectly to look smooth against your body. Some bra cups are unlined only at the upper part with the lower part thicker for more support or even a boost (in push up bras).
6. Center Gore (or Center Bridge) A part of a bra band that lays in between the cups. In well fitted bras it sits tight against you body. Women who wear bras too loose tend to have center gore sitting in the air between the cups. Very skinny women with bras too loose tend to have underwires dig in the flesh in the center bridge part. In many exclusive brands you can find all types of embellishmeant placed at center gore: satin ribbons, rhinestones, or combination of both.
7. Cradle A part of a bra that provides extra support in keeping underwires and cups in one place. For most women bras with cradle are much more comfortable and offer more stability. This bra part is especially important in strapless bras, where secure hold is a priority. Some brands offer bras with sheer lace cradle to add air circulation, and of course, beauty feature.
8. Sling Located on the inside of the cup, provides extra support on the outer part of a cup and prevents breasts from moving outward. This feature is very practical for women with wide set (or splayed) breasts. Also, when the cup fabric is too delicate to provide support, the sling will do the work, either made of solid cotton or durable mesh fabric.
9. Wings Are a part of a bra band. They are attached to a cup or cradle (depending on style) and on the other end they are attached to hook and eye closure. They secure the bra to stay on your body. In bras with bra band too big, the wings tend to ride up and give discomfort. Plus size women prefer wider wings, as wider wings lie smoother on skin and are attached to longer column of hook and eye closure.
10. Band A bra part made of center bridge, wings and cradle. It carries 80% of breasts weight, so it should fit tight. A tight band prevents the whole bra from displacing and rubbing against your skin. It keeps underwires away from poking. Low quality bras have bands made of very stretchable fabric, therefore they last much shorter. The band should be firm and stretch a little. Band in longline bras is much wider on front. It can be made of all kinds of fabric, for example lace - then it is called lace longline bra. The above graph is missing "side bone" and "seams" that are important bra features. They are both presented below: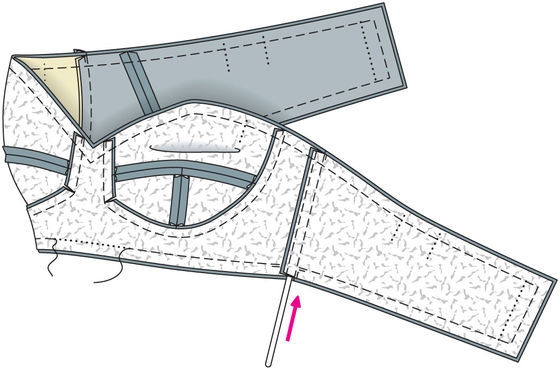 Side Bone (Side Support) - in a form of firm but elastic wire helps to keep the shape of the bra while wearing it, especially while moving. Thanks to the boning the band doesn't roll or wrinkle and the front part of a bra stays untouched. All European bras have this feature.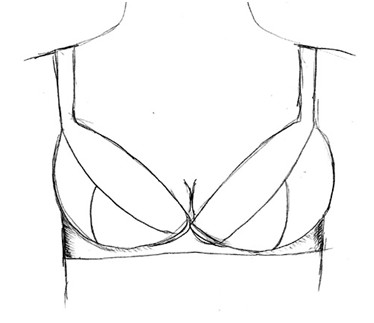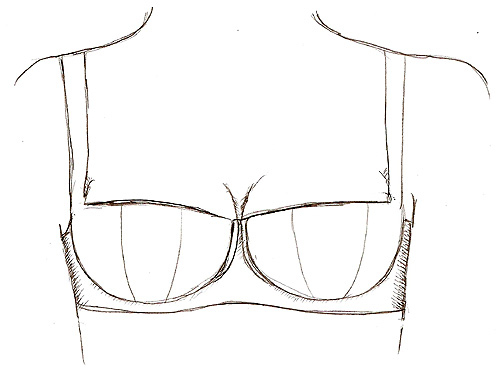 Seams - Located at the bra cups, they connect cup parts. They are responsible for a shape the bra cups will give to your breasts. Seams at first graph will pull your breasts closer together and give a lift from the bottom up. Seams at the second graph will give an even round shape to your breasts and will lift them in one, upward direction. Bra cups with no seams do not offer any shape or lift, they simply cover breasts.