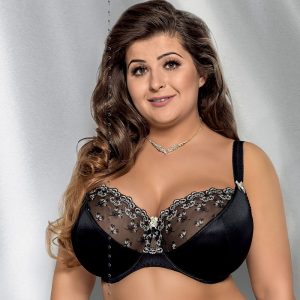 It's not easy to look for full busted bras while being a full busted woman.There are many obstacles that full busted women face on daily basis and choosing the right full busted bras can be a hustle. Shopping for large size bras is hard because load of lingerie stores simply don't carry them in eye catching styles. It's not fair that the retailers don't consider the large size bras as a product that's in demand and call it specialty bras. Every woman deserves to feel pretty and unique.
Putting the supply thing aside, there are other things that a full busted woman should consider when buying full busted bras. For example: how to make sure that the bra does its job of supporting large breasts, that the size is correct, and if the type of the bra is the best choice for a full figured women. Let's look at these points one at a time. The biggest mistake that's often made by full figured women is that when there is a small supply of large cups women usually purchase a smaller cup bra and compensate the size of the bra with a larger band.
This mistake is common and it generates a lot of negative feedback especially about underwire bras. When the cup is too small for a given breast size the underwire will poke the side of the breast and will be very uncomfortable. This is very sad because if an underwire bra is sized properly, it can provide great support and be very comfortable to wear.
The common mistake of wearing uncomfortable wrong sized underwire bra makes women switch to a wireless bra. For large busted women a wired bra supports the breast and give it a full control where a no wire bra will just keep the breasts close to your body and give them no shape.
We often see women that have beautiful large breasts that hang low like they have been stuck in two bags in front of them. Women's breasts should always be a women's asset and a proper bra will make sure that it is done so. A properly fitted full busted bras should always make your breast sit in the middle between your collarbone and your waist. A simple way to test this is by measuring the distance between your belt and base of your neck than dividing that measurement in half. Your widest and fullest part of your breast should be at the measurement you got after dividing the full length. Make sure that the bra is on while conducting this test and if the measurement is a bit off, adjust your straps (don't over adjust, straps should hold up only 10% of your breast weight) and measure it again.
Another way of doing this test is to simply stand in front of a mirror and looking at the distance between the base of your neck and your waist line and make sure that the fullest part of your breast is midway between them. If you are a full figured lady make sure that you don't sacrifice your well-being and your beauty by taking an easy way out by switching to a bra that does nothing for you. Search out a store that caters to large breasted women and caries full busted bras such as lacyhint.com and get yourself the bra you deserve.