The bra top fashion trend is here and was featured by designers at New York Fashion Week 2017. We better start working on our abs now! Typically, an exposed bra strap would be considered a fashion mishap. Even the most stylish of woman has had a fight with her bra at some point. But as the Spring 2017 runways have proven it may be time to show off your lingerie. Bra tops were paired with boyfriend jeans, evening skirts, and slinky silk pant suits. The options are endless. Designers like Oscar de la Renta, Tory Burch and Alexander Wang all included the skin baring top in their collections this year.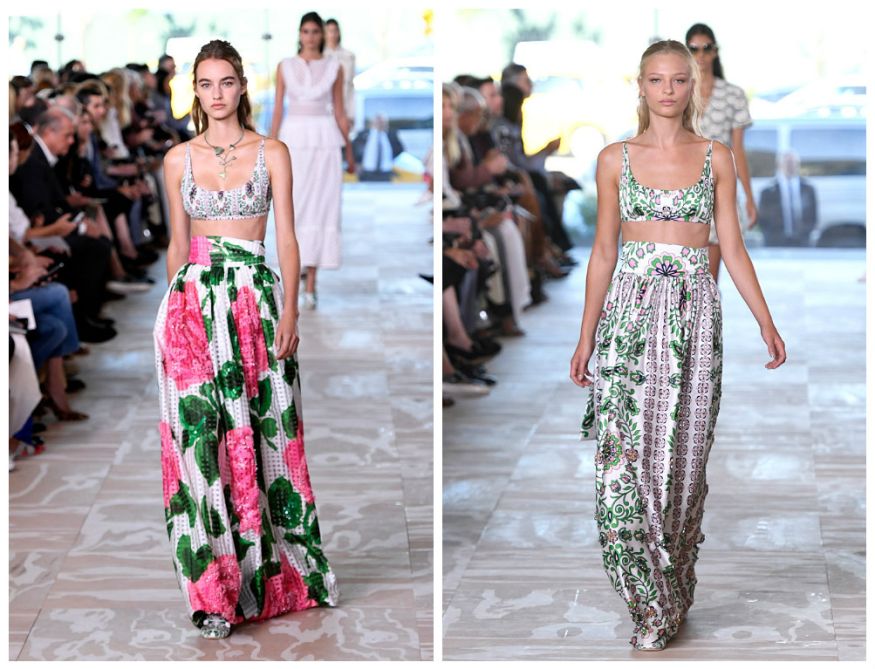 Sporty Bra Tops Fashion Trend
Designers like DKNY showed bra tops with a sporty appeal. When paired with jumpsuits, baggy jeans or track pants it makes the perfect inspiration for your "lazy day" look. We will do an extra set of squats and hope this sporty- leisure look never dies. Running errands in your most comfortable gym pants, a crop top and a messy bun seems like the normal everyday attire for busy woman everywhere. We would like to mention how happy the messy bun makes us. Any excuse not to blow out your hair sits right with us, but that is a whole another post. If you would like to dress up the bra top trend pairing it with a sheer floral blouse and classy accessories is the best choice. If it is done right, you may even be able to pull off this ensemble at your office. The key is to show minimal skin on the bottom if you are baring your midsection and some ample cleavage in your bra top. Good rule of fashion to always follow- if your top is exposed your bottom should not be. Let's keep it classy.
Don't Forget the Bralettes
Bralettes have also made their way from underneath your clothes. A bralette is basically a bra without an underwire worn as a top or under a sheer top. This less supportive, more dainty lingerie is so pretty it deserves to be the main attraction, or at the very least to be seen. As we said before this exciting new trend is so versatile the fashion options are endless. One of our all-time favorites looks a bralette underneath a dainty lace top with. Sexy and sophisticated at the same time.