Just as it is true that women never have enough shoes, women do not have enough bras or lingerie items either. Bras are probably women's most favorite underwear clothes and it is very likely that you have quite a number of them in your lingerie drawer: a lacey push-up bra for a special occasion, a balconette bra, a comfortable cotton bra for everyday use or a strapless bra to wear with that spaghetti stripe summer dress you love so much. Bras help you enhance your bust line, lift your bust, keep your breasts healthy, spice up your style and look sexier. In this article we're going to discuss 4 types of bras that every girl needs to have.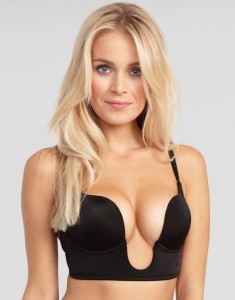 Types of Bras for Different Occasions
Women wear bras for different occasions: for a special night out, to spend a day in the office, to dance all night or to attend a fitness session. Discover what types of bras are more suitable for different occasions.
Push-Up Bras
Push-up bras help women show off their assets and they rank amongst the most popular types of bras. Having a couple of push-up bras is essential as they enhance your bust line by creating the illusion of fuller and larger breasts, making your cleavage more exciting. Push-up bras usually have underwires and padding that can be removed and they come in multiple styles, sometimes even with removable straps so that you can use it with different outfits.
Backless Bras
Wearing a backless dress or top is in fashion nowadays so having a backless bra in your lingerie drawer is always a good idea. Backless bras make it easier for women no to ruin their sexiness and glamour with unsightly straps or bands. They have an adhesive that sticks directly to the torso. Some types of backless bras have adhesive only on the sides while others have it also on the top and bottom. If you invest in good quality backless bras you'll be able to wear them more than once.Not many women is acquainted with these types of bras but once they do, they really appreciate the advantages they offer.
Sports Bras
Sports bras make it more comfortable for women to be active and enjoy even the most demanding training session. They provide women no matter how large or small their breasts are with the right support they require while exercising. They are made of breathable and lightweight fabrics so that they are ultra comfortable to wear. Sports bras come in different styles and some of them are really fashionable. Needless to say, these types of bras are great for active women who love to be moving around all day long.
U-Plunge Bras
U-plunge bras are a girl's best friend when she's wearing a low-cut t-shirt, dress or blouse. They help to create a sexy and appealing cleavage without having any unsightly cup being seen. U-plunge bras rank amongst the sexiest in the lingerie industry and some styles come full of laces and details to make them ultra chic and glamorous.