If you like to live your life with no strings attached, you might like your bras with no wires attached. Yet, other women who love to live their life on the wire just can't do without a bra that gives them that extra push. Only you can decide if your personal style means you are a wireless wonder or an under wire vixen.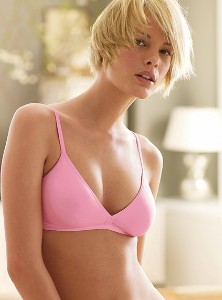 When Undergarmeant Choices Come Down to the Wire
Nothing is more controversial in lingerie land than the debate over under wire bras. Some women love them, others dread them. The truth of the matter is that a wireless bra can be an important fashion tool for certain dresses and tops, but it can also detract from your figure if not handled properly. When choosing a bra type, it is important that a woman is familiar with what works best for her bust. Non-wired bras create a very natural, relaxed bust line. This can be great for a low-cut blouse or dress which invites a subtle, elegant sloping of your cleavage. However, some wire-free bras give too little support and it can look like you aren't wearing a bra at all. The ideal to strive for is a bra which offers gentle support to make your breasts look naturally perky and supported while avoiding an under wire bra which can place your bust in an awkwardly high position. Let's break it down with the official list of pros and cons of wireless bras.
Three Cons of a Wireless Bra
Unless you treat yourself to a high-quality bra, chances are that a bra without built-in wire support will lose its shape pretty quickly. Bras without wire support can sometimes slip out of place. Without the hard line of a wire to define the cups, everyday movemeants and activity can sometimes shift the cups out of place. Wearing a bra without under wire cup support can sometimes lead to a drooping effect. If you are like most women, bras that don't offer defined cups can sometimes cause your breasts to sag under certain styles of shirts, and also it can form the dreaded "uni boob" where both breasts push together.
Three Pros of a Wireless Bra
No more ouch! Every woman who has worn a wired bra knows the pain of being poked by a wayward wire. Over a long period of wear, many wired bras experience a snapped wire or a wire that slides out of place. A natural look. A wire-free bra really allows your bust breathe. This style of bra offers gentle support without overly-accentuating your assets. For everyday wear under t-shirts or casual blouses, non-wired bras let you feel comfortable in your own skin. You can take a deep breath. After a long day of being strapped into a wired bra, many women cannot wait to peel out of their undergarmeants. Even the most comfortable of under wire support bras can feel restraining after a long day or evening inside one. Wireless bras, however, have a less restricting feel against your chest and rib cage.