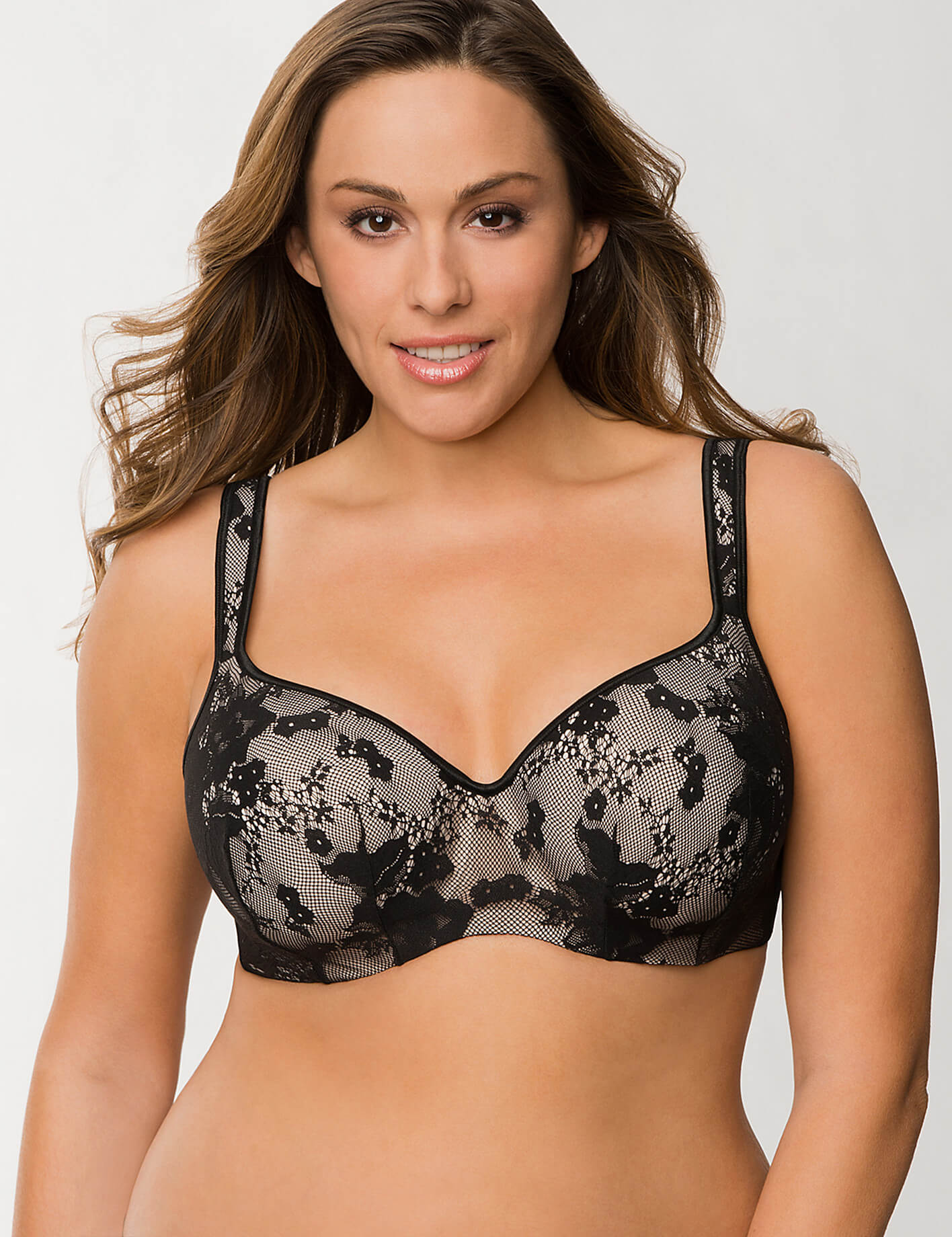 As a plus size woman, I have searched for years for the perfect bra. Most bras over size C are unattractive, cumbersome, and costly. My search ended three years ago when I purchased the Cacique Bold Lace Balconette Bra from Lane Bryant. They have sizes ranging from 36C up to 44H. I found an excellent fit with the 40D. There are many colors offered, but my favorite is the classic black.
The sheer black lace design covers a beige satin cup, lending a sophisticated yet sexy look to the bra. The black satin trim along the top of the cup and the straps adds another touch of elegance. They offer a beautiful fit, with an extra-thick band providing secure coverage across the back to avoid those pesky back rolls. The cups have a very natural shape to them and give enough boost for attractive, yet subtle cleavage. The underwires do not dig into the armpits like some other bras do, providing an extremely comfortable fit. The straps are adjustable and are of a nice thickness.
They don't cut into the shoulders and offer enough support to keep the breasts perky all day. The three hook and eye closures on the back are easy to maneuver and are very sturdy. I've purchased dozens of these over the years, and have never had an issue with the closures breaking or becoming deformed over time. The only criticism that I have is that the lace overlay can snag if a zipper gets caught on it.
This can easily be remedied by wearing a camisole underneath a shirt to avoid snagging the lace. The price is reasonable, with most bras running between $40 and $50. Lane Bryant often runs specials on their bras, so I always stock up when I see a sale. I highly recommend this item to anyone looking for a fashionable, comfortable, long-lasting plus-size bra.