Go ahead. Ask me. I know you want to know. I'd want to know. What happens to your 42Ds after a 6 month 90 lbs rapid weight loss? What if you are also a 43 year old who breastfed 2 children? If you haven't already got the picture in your mind, here's what happens: Everything flattens out and deflates. Think two empty flaccid balloons. Think pancakes. "Just get a boob job, " you might say. Problem is, I don't have any more money after investing in weight loss surgery. For now, plastic surgery is out of the question. But I do have enough to splurge on some very good quality support bras. Even so, I still have to shop wisely and get the biggest bang for my boob bucks. I can't afford to buy an expensive lacy purple bra that I can only use with one outfit. I have to buy the basic kind, usually a classic beige, white, or black; the kind that matches with everything and looks good with all types of clothes.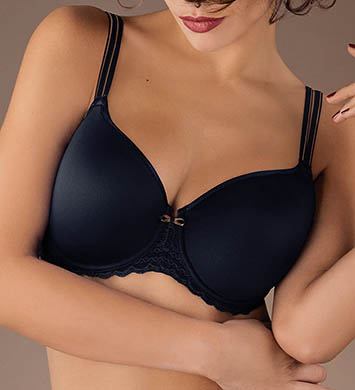 My latest favorite is a Chantelle Merci Spacer T-Shirt Bra (Style #1747), which I wear in a confident 36B based on their European conversion chart, (oui -oui mademoiselles, this subtly sexy bra is designed in France). If I could give an academy award to a bra, this would be the winner. It does it all: lifts, squeezes, pushes, separates; it's the Meryl Streep of bra-dom! Constructed with a lightweight microfiber - called spacer fabric, it's seamless, with a sturdy 3 column, 2 row hook back closure. Just a little touch of border lace adorns the stretch foam-lined cups.
I have four of them, 2 of each in my required neutral colors of black and tan. They've replaced all my other bras because they look so great with almost every article of clothing I own. My only teeny-weeny criticism about this bra is the fact the brand name is so prominently displayed on the straps; I'm not that much of a label dropper. But that issue is a very small price to pay for a $68.00 miracle-worker that has saved me from going under the knife again. At least for now… Gotta start saving for that chin lift in 10 years.