Beach season is tearless. Either your are a petite sweetheart or a full figured hotness, the summer awaits you to show of your cleavage, no matter if you like it or not! If you are not ready to wear the stifling beachwear again, it is time to search for new comfortable swimwear that is completely in sync with you. This means you will no longer have to squeeze into 36D bikini tops from Victoria's Secret. You can easily find that Curvy Kate has the sizes that are exactly what you needed all those years, even if your actual bra size is 30DDD, 34H or even 38J! Curvy Kate is known for designing lingerie and swimwear exclusively for full busted women. The styles completely support the breasts and flatter the sexy curves. Curvy Kate collection includes the cup sizes from D to K and it gains more and more recognition every year in the United States, France, Germany, Australia and other countries. I am sure you will fall in love in this new kind of comfort as well!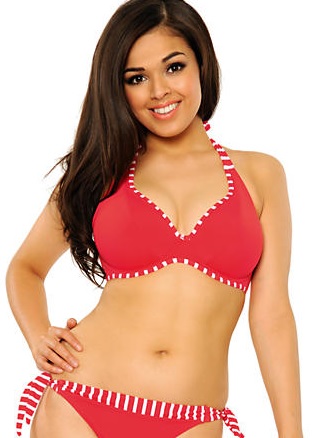 Let me introduce to you the super comfy Horizon Halter bikini set, with its non padded top. The red stretch microfiber is very soft in touch and originally finished with striped trimming. Together with the bottom tied on sides becomes a classy, yet playful two piece swimwear set.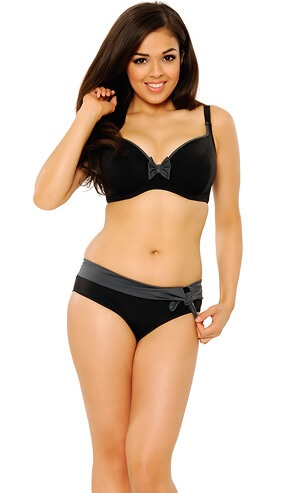 Moonlight Black and Charcoal Swimwear by Curvy Kate[/caption] Some of you don't like the contrasting colors and prefer the swimwear to be in one color shade. You might simply love black on anything you wear, and Curvy Kate has an option this summer season. Moonlight two piece by Curvy Kate is lightly padded and also made of stretchy and comfortable microfiber. You can easily adjust the bra straps to your desire. Finished with the cute charcoal bow and neat charcoal trimming. The matching briefs are in fold-over version, also made of stretchable material.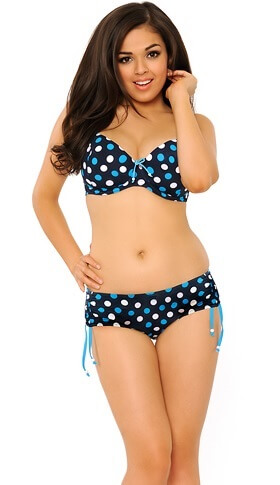 Pebble Blue Dot presents itself very lightly and girly. You can find this style in padded and molded version, however padded top is created in more sizes. The matching boyshort or bikini bottom is tied on sides, what gives you extra stretch and opportunity to fully adjust it for your maximum comfort. Who doesn't like to wear blue swimwear at the ocean beach! Pairing Curvy Kate's bikini top and bottom may end up a bit pricey, but how much you wouldn't pay to have the swimwear that fits you ideally in every aspect. If you are looking to save on the full price of $115, check barenecessities.com for a 20% discount. The promotion is running right now!