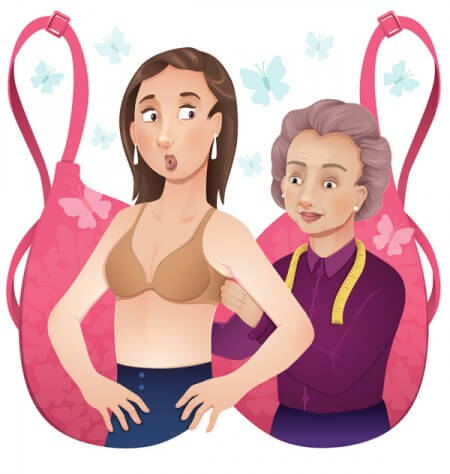 If you only have one piece of clothing that fits perfectly it should be your bra. Having a proper fitting bra not only guarantees that you will have the best support but also will assure the most comfort. Many women wear the wrong size of bra simply because they think it fits right. Just about any departmeant store that has a lingerie departmeant has someone that is able to offer you a proper bra fitting. The most common mistake in bra sizes is the cup size. It is somewhat easy to tell if a bra fits around great but determining the cup size can be a bit more difficult. Some women will even wear a smaller cup size because going up another size will make them feel that they are bigger than they should be. An important thing to remember is that it is not the size that matters; it is having the proper fit. This can be quite painful especially if you wear an underwire bra, because the wires can dig into your skin if the bra is too small or rub if it is too big.
Another common mistake is wearing a bra with the band too loose. Again, this requires to wear a cup size too small to balance the fit. As a result the band is sliding up and breasts are hurt by the edges. The band needs to be tight enough to hold the bra in one place. If it means smaller band size then you had so far, get a cup one size larger and see the difference. Perfect fit?
Most women will not wear the same size of bra throughout their lives so making sure that you get the proper measuremeants every year or so can guarantee that you are still wearing the proper size of bra. There are many ways to tell if your bra is no longer fitting properly. The cups should fit perfectly with no folds in the material and by no means should your breast ever slip out of the cup even if you are bending over. If either of these things happens it will not only make you less comfortable it could also lead to an embarrassing momeant.
Even when you know your perfect size one last important thing to remember is, not all bras are created equal. You may wear a 36 B in a full coverage bra but when you switch to a different brand or style of bra you may need a 36 C. You should never settle for an improperly sized bra just because you like it or you ordered it online. For proper bra fitting check this article.