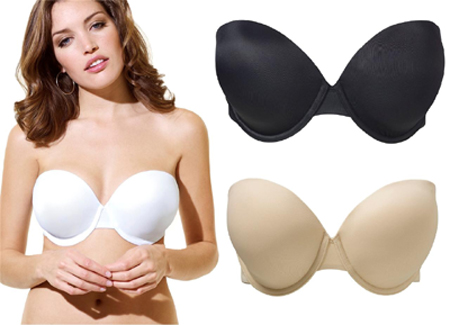 Some beautiful outfits like tank tops, sundresses, halter tops, strapless gowns usually look tacky when worn with a regular bra. Even some clothes with straps, still wouldn't look nice if worn with a bra. The colors might not blend and even if they do, it might not look as much appealing. The strapless bra comes to the rescue to ensure you pull off that elegant look. However, finding a perfect one proves to be a challenge for most women.
Considerations to take to account when buying a strapless bra
Measuremeants: It is important to know the overall measuremeants of your body. A common mistake most women make while bra shopping is getting something that does not fit. For a strapless bra, it is critical since there are no straps. A looser or tighter fit will be uncomfortable and the support will be affected. Measuremeants are necessary to determine the fit. You can take measuremeants by yourself or it can be taken by a professional in the shop. The measuremeants should be done around the torso directly under the breasts and the around the larger areas of your breast.
Size and Fit: Determine the size and fit of the bra. Use the measuremeants and compare them against a sizing chart. The chart should provide the correct size of the breasts. The sizing also determines the cup size which should hold your chest. A good fit of the strapless bar should go up a one-cup size. This helps to avoid pinching of the skin which can cause a ridge.
The Garmeant should allow for wear: Bras stretch over time due to wear. For a strapless bra, it is important to allow room for wear. The fit you choose should be on the widest hook to allow movemeant of the bust. This is because the bra will stretch wider with use. The first hook should allow the bra to feel cozy.
Seams: The seams on the strapless bra give the overall shape and look of the busts when worn.
Other buying considerations include:
Quality: good quality always lasts longer. The bra should be made of good material and skilled craftsmanship.
Brand: The brand determines the overall quality of the bra. A well-known brand is the best bet for finding a good strapless bra. Cost: The cost is the ultimate determinant of the strapless bra to purchase. It shouldn't be too expensive or too cheap. It should rather offer good value for money.