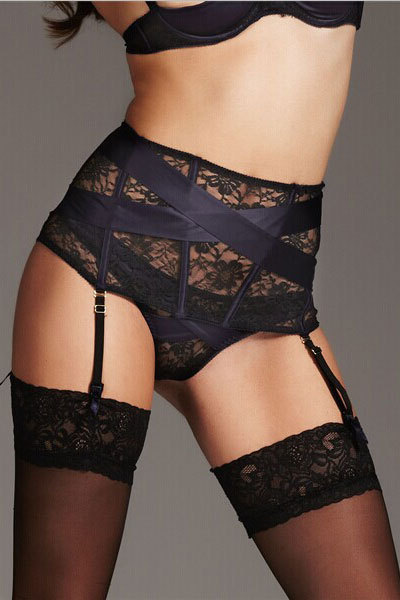 Before buying a garter belt, you must first decide whether you wearing it simply for fun, nighttime, or as an everyday undergarmeant. This is because the varieties of garter belts are suitable for different purposes. For example, nighttime garter belt may not be made of the materials suitable for garter belts meant for everyday wear.
Garter belts features:
Garter belt set A garter belt set comes with matching bra, stockings, and knickers. A black garter belt is a more flexible color as it goes with a variety of black-colored bras and knickers. Other garter belts can be purchased with certain types of bras. A garter belt set can be worn for a special wedding night, or for more formal purpose as an everyday undergarmeant. The right choice should make you feel comfortable and beautiful.
Garter belt styles You should know exactly what style you are looking for before making the right selection. If it is for fun, then what you choice should suit that purpose. Garter belts worn as underneath everyday wear should be simple and avoid too many details. Things like lots of ruffles or too many layers of lace are meant for the nighttime, but not for work purposes.
Garter belt fasteners Garter belts come with a variety of fasteners. A common fastener is using clips to fasten the garter belt to stockings. Each leg has two clips which are usually made of plastic or metal. Another form of fastener is the button which is fastened on the stocking. Other garter belts do not have fasteners but instead have a stretchy lace. The lace is attached to the stockings which come with garters. This tends to be more comfortable and convenient for women as they avoid the unnecessary effort of fastening.
Garter belt materials Lace is the most common type of material for garter belts. Other materials include satin and silk. These are mostly the same materials that bras are usually made of. For good support, the garter belts can be made of nylon and spandex. These materials are more comfortable than the traditional lace garter belts. They also last relatively longer.
Garter belt sizes It is more of a guessing game to decide which size is the most suitable. If you are shopping online, it is recommended to use a size chart which makes the selection a bit easier.