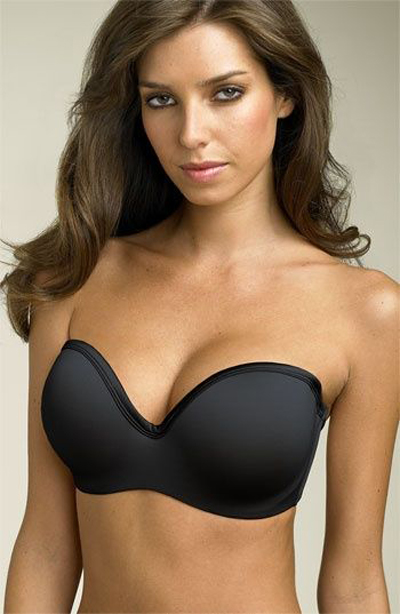 Women usually wear bras underneath their clothes for comfort, support and, of course, general appearance. However, some dresses such as scooped-necklines, strapless dresses, and tank tops do not have straps. This consequently makes it difficult to conceal bra straps. Many of these clothes are wonderfully designed, but it is difficult for most women to match them with bras.
Reduce the visibility of bra straps.
Attach straps on outfits whenever possible If you are wearing an outfit with thick straps able to cover the bra strap; attach the bra strap to the inside of the outfit's strap. This will prevent the bra strap from moving and being exposed. Some of the techniques of doing this are by using safety pins, lingerie snaps or the double-sided fashion tape. The lingerie snap is the safest and most reliable option. It cannot be undone easily. You will have to sew the snap to both the inside of the garmeant and the bra strap.
Matching colors or transparent straps Lingerie straps and other fastening techniques do not work for some outfits like tank-style clothes, camisoles, and similar outfits. They usually have thin straps. For this type, it is better to wear matching color bra straps, which are not easily noticeable. For more convenience, buy bras with removable straps and bras straps separately. You can then always simply attach a matching strap on the bra to blend with the outfit you are wearing. The other option is to wear transparent straps which are also not noticeable.
Wear racerback bras You can also wear racer back bras, but it should be appropriate for the outfit and purpose. The racer back is good for shirts like wifebeater, which reveal bras straps along the sides. The straps of the racer back bra do not rest over each shoulder, but are centered on the back between the shoulder blades. If you don't feel like purchasing the racer back bra, you can improvise with the regular bra. All you need is a bra clip to pull the straps together to have that racer back bra straps effect.
Strapless bras When all the other options of concealing fail, you can go for the strapless bra. It is good for strapless clothes or over-the-shoulder tops which leave shoulders exposes. It is a simple option of doing away with the straps altogether. Just ensure the size fits well for comfort and support.