Corsets were invented to control female waists; it was however, nothing short of a torture device. These days, corsets are wonderful "Waist trainers" and sexy lingerie which gives your torso that wonderful lift. Here are some Brands that are making the most killer corsets in the market right now!
Bordelle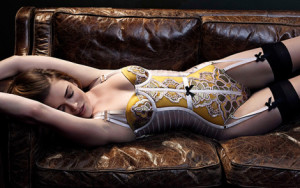 A British brand that has been gaining momeantum is the "bondage inspired", Bordelle. The name is a French word that literally means a house of ill repute, launched in 2009 by Alex Popa, Bordelle focuses on body-con silhouettes. With their decadent designs, customized satin and elastic bands, Bordelle has created a perfect signature style. One, which is spreading faster than you could say, "The British are coming!" In their latest designs they have added swimwear and bridal lingerie. Their corsets are absolutely gorgeous and a total play item!
Agent Provocateur's Classic Mercy Corset.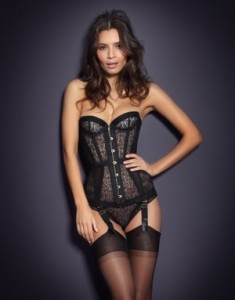 Why does the classic Mercy; a lace up black corset, make the highlights of your wardrobe? Black is timeless. It will make you look great. There are ZERO doubts when wearing black. There are times when you feel like channeling your inner Goth and still look like you just stepped off a runway. Agent Provocateur is THE place for all things black. Their designs are edgy, sometimes bordering on dangerous, while balancing extremes and everything else that gets in the way!
The Maz Corset By What Katie Did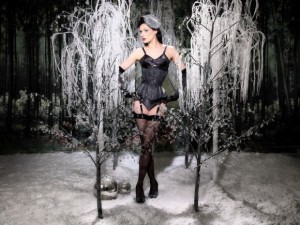 For the past thirteen years, this brand has shone and is THE name when it comes to faux-vintage lingerie. It is one of those rare brands that has catered to stars but still remain an excellent choice for regular people. Their prices aren't swoon worthy either. They have some the best off the rack corsets in the market and anyone with the slightest flair or idea will know about this brand. The stitching and the quality of the fabric is what makes the off-the-rack versions so appealing as well.
Madame Voller's The Vollers Corset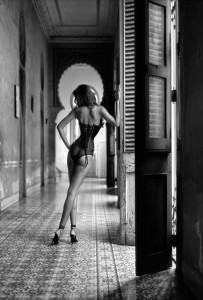 The elegant designs by Vollers seem to have a secret recipe, how else would they fit so well and look equally good. Madame Voller's work is being used in films and in theatre, simply because the shape that comes from her corsets is breathtaking. The Vollers Corset is an eternal piece; you can see multiple retailers showcasing these corsets. Madame Voller designs are an amalgam of lace and leather; some of the designs are a cross between a traditional corset and sheer boudoir lingerie. If you're looking for something classy, experimeantal or something that takes you straight to the silent movie era, this is it!