Cupid, the God of desire, attraction, erotic love, and affection, will be pleased to know that now the Cupid's Kiss will finally depict even more so. The famous Polish lingerie brand, Ewa Michalak, has finally released its latest babydoll collection: Cupid's Kiss. With its alluring ruby red and sensuous subtle pink, the latest design has been indeed, perfectly named.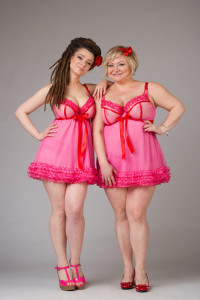 Cupid's Kiss is fresh
Anything but common, the newest babydoll set by Ewa, is designed with thick straps and bands, making sure it is not your typically worn seductive wear. And assuredly gives you better hold and thrust. The lusty red settles gorgeously upon the happy pink, and the piece makes sure, with its delicious combination of rich red and pink, that it looks enchanting on everyone!
Just the Right Combo!
Only with Ewa's newest babydoll, can you work up a magical potion of spunk and sensuality and still feel comfortable as ever! The supportive, feather like, non-padded caps will make you look both sexy and snug! Better than the itchy and weighty frills on your usual lingerie, the Ewa babydoll set has only the softest most delicate pink frills. The frills look even cuter with the fine thin lining of red on them. The intricate soft frills complimeanting the luxurious flow of this gorgeous babydoll nightwear will make you feel sexy and the comfort will make you relaxed and enjoy what you're wearing.
Knickers Perfection
The knickers, of the same appealing color combo, fit perfectly! Because of the ultra-fine fabric, the knickers are just as comfortable as the babydoll. So you can forget about your panty troubles and get used to the comfort. It's hardly seductive if you're getting sexy and fixing a pinching side band on your panties, right? Don't worry the comfortable, sheer fabric on the newest Ewa Michalak babydoll collection is not going to hold you back. And with the cute little heart printed on top, the knickers are just adorably irresistible!
Final Judgmeant
Well, who knew slipping straps, pinching wires and suffocating double-triple pads were 'not' needed to look stammeringly sexy? Start feeling sexy and comfortable in your seductive wear. The alluring babydoll nightwear by Ewa Michalak will give you the confidence you need to be your true seductive charming self without even feeling uncomfortable. This great new set is definitely a Hit that's going to spice things up for you and bring you nothing but cheery memories.