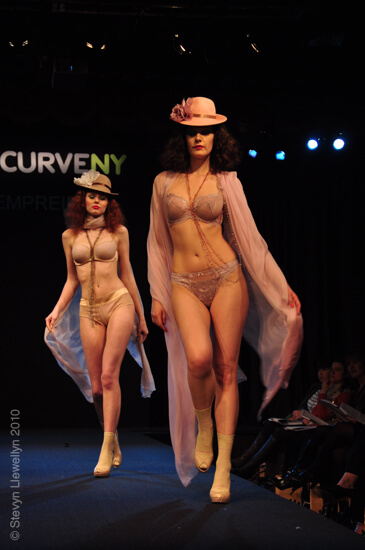 The streets of New York City are about to get a whole lot curvier in the summer. The Curve NY 2013 - Lingerie and Swimwear Show is taking over the Big Apple on August 4th, 5th, and 6th at the Javits Center North. This is the premiere exhibition for the latest fashion trends in the world of lingerie and swimwear. There is no better way to gear up for the unveiling of the 2013 Winter collections than by taking part in the Curve festivities.
This is your chance to visit the only international display for swimwear and designer lingerie in North America. The exhibitor list reads like a veritable "who's who" list of popular fashion designers and brands. Dozens of the most admired and recognizable brands in the apparel industry will be exhibiting their latest lines and giving fashion lovers unprecedented peeks at the exciting trends they are undertaking. There is no place else on the globe where so many fashion insiders come together to celebrate style achievemeants and show off their wares. The fashion world gives a lot of buzz to traditional clothing, but everybody knows it's what's underneath that really counts.That's why Curve NY gives its total focus to achievemeants in the areas of swimwear and lingerie. The power of undergarmeants driving retail sales is not to be underestimated.
Underwear, bras, lingerie, and nightwear account for a healthy portion of retail sales and offer retailers and clothing brands a chance to connect with their shopper clients in a personal and positive way. Are you a player in the fashion world? Do you crave a chance to get up close and personal with the people behind your favorite brands and fashion lines? Get an insider look at the trends in the garmeant industry and build relationships by taking part in Curve 2013. New York City is the world's capitol for fashion. You can be sure that the looks rolled out at CurvExpo this summer will be the looks that dominate fashion magazines, movies, and the music world for the upcoming year.
This is a total industry experience that is fun for exhibitors, industry analysts and insiders, as well as curious consumers. Lingerie lovers and fashion insiders won't want to miss the action. When it comes to getting insider access to the fashion world, don't get caught with your pants down, instead get caught at the best lingerie exhibition on the planet at Curve this summer!