Most women enjoy the opportunity to pamper their breasts with gorgeous bras and sensuous lingerie. But why stop there? Did you know that you can pamper your breasts with a breast workout? Certain movemeants and workouts can actually firm breast tissue and create a fitter, healthier bust line.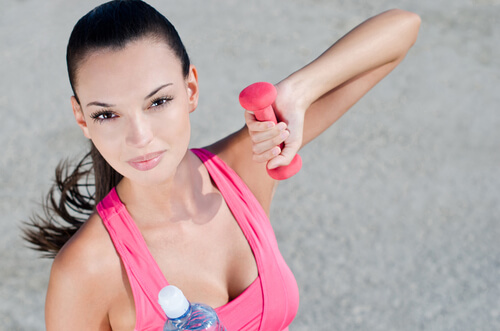 Focus on Pecs for the Best Workouts for Your Breast
If you spend time in the gym working out or participating in yoga and Pilates, you probably spend a great deal of time firming and toning the various parts of your body. Yet, so many women completely neglect their breasts as part of their fitness routine. Neglecting your breasts at workout time means missing out on the opportunity to firm, tighten, and enhance your cleavage. While breast tissue itself cannot be "worked out" since it is comprised of fat, there is muscle beneath the breast which can be exercised in order to lift your breasts. These muscles are pectorals, or pecs. The best way to work out your pectoral muscles is a series of low impact, repetitive motions.
A Low Key Way to Heighten Breasts
What if I told you that a simple push up is the key to lovely breasts. No, not a push up bra, a real live gym push up. It's true!
The last thing you want to do at the gym is call attention to the fact that you are working out your breasts. That's why selecting a discrete and low key exercise is helpful. One of the most effective breast exercises is push ups. Not everybody knows the proper form for an official push up. To begin, position yourself flat on the floor, chest down. Web your hands against the floor and bend your knees so that they align under your rear. As you push down, you want your body to be positioned so that your head is hovering below your elbows. At this point, hold the position for a minimum of three seconds, allowing yourself to feel a slight burn in your pectoral muscles, and then resume starting position and do it again for a series of repetitions. Push ups are great since you can do them anywhere and anytime time without the aid of gym equipmeant.
Chest Press and Fly
If you are inclined towards the help of gym equipmeant, chest press and fly is an excellent method for firming your pectoral muscles. Lay down flat on your back on the bench, as though you are a butterfly with your wings extended on either side, holding dumbbells in each hand. Very slowly motion your arms to come together until the dumbbells nearly make contact. Now slowly bring your arms back down to the open butterfly position. If you are doing it properly, you feel a burn in your pecs.
Adding a breast workout to your fitness routine is a great way to boost your bust and achieve firm breast tissue. You will look great, feel strong, and all your favorite lingerie will fit better.