If you are thinking to gift your partner something very special that will touch her heart and will stay with her for a good amount of time then you may certainly consider gifting her an expensive pair of lingerie. This unconventional gift will cheer her romantic mood and will strike the happiest smile on her face. Women do love sexy lingerie and an expensive thong will make her feel so very special. A sexy thong is a very chic gifting idea and is totally different from the conventional gifting ideas like flowers,
jewelry, and dresses. Lacy thongs represent freedom, supreme style and sensuality altogether. It's that little piece of lingerie that always promises to make a difference. There are innumerable expensive thongs in the market to spoil you and your partner.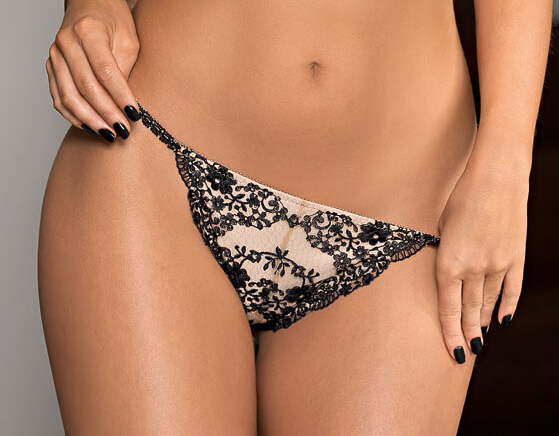 Expensive thong means how much?
Girls hardly ever treat themselves with an expensive underwear and many of them choose to buy cheap lace thongs that don't last long. Cheap means somewhere between $3 to $5 a piece. Anything close to $20 you should consider pricey and quality promising. A $25 classy thongs or bikini panties will definitely be enough to excite a woman with your gift. It's really difficult to judge how much is too much for a sexy thong! Well, there are even diamond studded thongs available to lead on the price chart. They are adorable, they are pricey and they are a true winner.
Swarovski crystal studded thongs at can go as high as $104 each and they would be an added glitz to your partner's wardrobe. The sleek design a thong and its appealing cut will truly ignite the fire of passion within your girlfriend's heart. You can spoil her with an adorable piece of Ritratti Chic Thong and she won't deny that they are one of the uttermost comfortable thongs available in the fashion industry. Yes, they are expensive, priced at $180 a piece. They will glamorize your partner with sophistication and supreme elegance. The lacy embroidery and seamless borders are inexplicable. They are a true signature of style and are a gorgeous status icon. Your partner will feel loved when she will wear one of this pretty creation.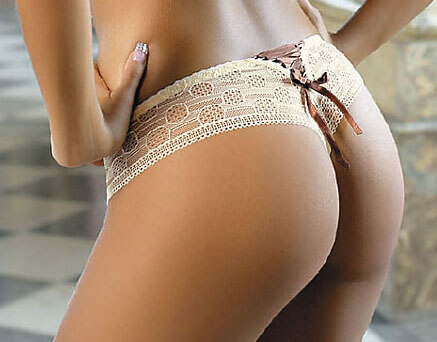 Why pay so much when there's so little fabric in a thong?
If you think that a thong is a debatable gift for a woman because "why pay so much when there's so little fabric in a thong" know the inevitable fact that she will adore you for gifting her with luxury sheer or lace panties. A well designed with high quality fabric thong guarantees comfort and passion. While you may be at the threshold of deciding on the fact whether to gift your special someone a sexy thong, she might however be obsessed with this wonderful choice.
Ines Black see through thongs at Lacy Hint certainly evoke romantic aura and make a vintage statemeant. The ultra-sheer tulle and the charming embroidery of an expensive thong makes it an right gift for your loved one. Allow her to enjoy the bohemian styles of a classy underwear and treat yourself with the graceful smile of your loved one.