Taking proper care of our lingerie items is essential in order to have them always in perfect wearing conditions. However, many of us do not know the basics of lingerie care and may easily make mistakes while washing them that may ruin their delicate fabric. Whether you've invested in some lovely lingerie for that special night or have bought a sports bra for your fitness sessions or have renovated your underwear drawer with some comfortable and practical underwear items, there are plenty of reasons why you can take advantage of the lingerie care tips we'll share in this article. Taking good care of your lingerie is also important because it is a way of caring after your skin as well; your thongs and bras are the pieces of clothing that are closest to your skin and if you are unaware of proper lingerie care you may end up suffering from skin allergies or scratches on your skin from uncared zips or hooks.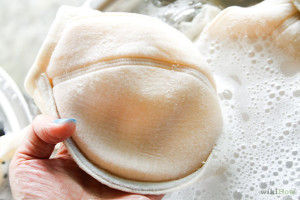 Besides, sticking to good lingerie care practices comes with another benefit: your lingerie will last longer. And if you love buying new lingerie items from time to time, you'll end up having a beautiful collection of lovely underwear pieces that you can wear any time you want instead of replacing items that are unwearable. Follow these helpful and easy lingerie care tips and enjoy your underwear!
Lingerie Care: Get Your Lingerie Ready for Cleaning
Washing your lingerie implies something more than just tossing it into the washing machine or the basin with luke warm water and a soft soap: you need to get your delicate lingerie items ready before putting them under the water. Taking good lingerie care of your underwear (even if you need to wash an ordinary cotton brief and bra) is very important. That said, before washing your lingerie make sure you attach hooks to eyes to avoid tangling, button buttons, tie ribbons and zip zippers. It's important to always wash your lingerie with clothes in similar colors and to remember that you cannot use bleach on your lingerie.
Lingerie Care: What To Do
hand washing your underwear is the best way to go as regards delicate lingerie care is concerned. You will only need cold water and a gentle detergent to ensure that the shape and material of your underwear. hand washing your lingerie is the best lingerie care you can offer: it cleans lingerie better and preserves it from getting damaged. If you'd rather use a washing machine for cleaning your lingerie items, it is advisable that you keep all your underwear in a lingerie bag. You can buy one in almost every lingerie store and it will allow you to keep all your underwear together and prevent it from getting mixed up with any other piece of clothing you're washing. Check your lingerie and ensure that all your items are ready for washing. You'll also need a gentle detergent and cold water.
Read the lingerie care instructions provided by the manufacturer. In most cases, they provide detailed information regarding what to do and what cleaning procedures you should avoid. There you'll find the ABCs of your lingerie care. After washing your lingerie items, squeeze them to remove the excess of water but avoid squeezing them as if they were ordinary wash clothes. Hang items carefully and reshape them if necessary. Lingerie care for silk lingerie is of utmost importance. Use cold water and a silk detergent or extremely mild soap. Storing your lingerie is also part of the lingerie care procedures. Always keep your clean lingerie on shelves or drawers. Fold them in the way that seems to be more natural for them as this helps to preserve the fabric from unnecessary stretching or unwanted snags. You can add a scented bag to the shelf or drawer so that your lingerie smells lovely every time you wear it.
Lingerie Care: What Not To Do
From wringing out your lingerie to storing it together with other clothes, there are many lingerie care mistakes we usually make. This section of the article will highlight the most usual lingerie care errors so that we don't make them again Avoid wringing out your lingerie as it only damages the fabric, elasticity and shape of your underwear and avoid iron it too as the heat from the iron can damage it as well. Tumble drying your lingerie is also a huge lingerie care mistake! Doing it can shrink your lingerie! Don't expose your lingerie to direct sunlight as it may make the colors of your lingerie fade. Don't keep your lingerie with other clothes, especially belts as their hooks may rip the delicate fabric of your lingerie items.