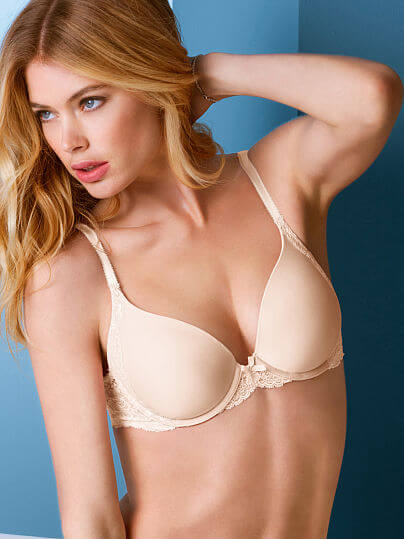 I recently was in need of a new bra and wanted one that would be able to give me the type of lift and support that I needed that was when I went to my local Victoria's Secret store and purchased the Dream Angels Perfect Coverage. I have had a number of bras, that in the past all promised that they would support and lift, but in the end they came up short in their claims.
I purchased this bra in black size 36 DD. I had to admit that I was a lot more impressed with this particular article as I had in the past. I have bought a number of bras from Victoria's Secret and not always had the best of results. One of my first bras was the one that I bought with an under-wire that hurt after several hours. With this latest bra, the under-wire is barely noticeable and the support it gives is far more than some of the other brands out there. The price was also very much well in my budget as I paid around $53 for mine. The one thing that
I found to be very appealing was the interior of the cups gave a very soft and pleasant feel when you are working 12 hour days, the last thing that you will want is to have material that will rub your nipples raw. I have never been happier with an item as I am with this particular product.
I would recommend it to any woman that is looking to have support especially if you are a rather large busted woman. When it comes to the materials that it is made from, you are getting your money's worth with the item being made from nylon and spandex. This in turn means that you are getting the best materials along with the comfort of a lite feel on the inside of the cups. You will also appreciate the double row of hooks and eye closures that will afford a woman with a large cup size to have comfort of the item being able to handle the load.