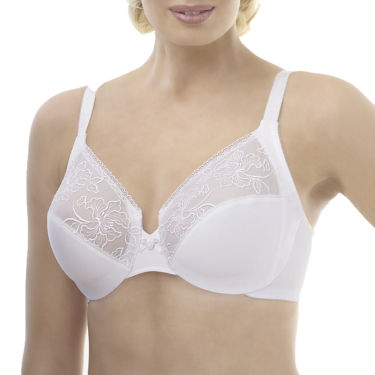 Hunting for a good bra, especially when you want to pay for something that's going to last, can be so time consuming. It's even more fun when you have a cup size that usually relegates you to either the 'big bras' that are plain cotton with no frills or everything you find is a demi-cup and covered with silly lace. Looking for full coverage with good support for any cup size is going to be a challenge, but you can find one that's really spectacular.
The Glamorise Embroidered Wonderwire Full Coverage Bra- and that's the bra's proper title- will be a staple of your wardrobe. While it doesn't come available for the smaller cup sizes, like B or A, for those of you with a larger chest, it's delightful. Maybe the best part about it is the support it gives without having a wire jabbing into your rib cage or up under your arm.
The wires stay in place and have enough flex to where you won't feel like you're donning armor. Bras tend to have those quirks where there's always one thing off about them, and this is no different. For those of you with breasts that aren't full all the way around, the top part of the cup sets empty.
While that can be amazingly annoying when you're wearing a fitted shirt, or one with an open neck - air just gusts right down in there!- it's tolerable unless you stop to notice it. The lace edging at the top of the cups can be a little itchy on hot days, but the bra breathes pretty well overall, so it's nothing that you can't handle! Adjustmeant of the shoulder straps is a must in order to keep it from riding up or slipping down, but for those "hard to fit" sizes like 34D or 44G, you'll find this to be one of the best you can get.
Sale prices vary, but you can find it starting at $44.99. With it available in white, taupe and a whimsical purple, you'll have one to go with everything you wear.