It's your one stop hippie shop for all of your flower power fashion needs. Just like the name implies, the Hippie Shop takes groovy combined with vogue, and creates some pretty hip fashion. If you want to add just a touch of free spirit to your wardrobe, check out this shop's swanky collection of fashion tops.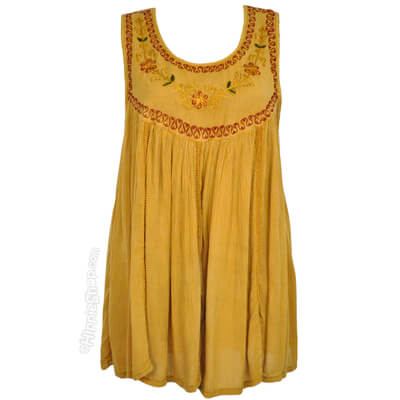 Crinkled Baby Doll Blouse
Perfect for the upcoming summer months is the Crinkled Babydoll Blouse. Subtle and not too overwhelmingly bold, this sleeveless top is made from 100% rayon keeping it light and airy. Flowers and other simple patterns are embroidered across the top adding a cute, decorate touch to this top. The one downside to this charming top, however, is that it only comes as a "one size fits all.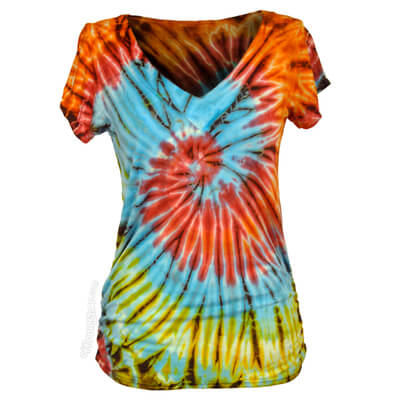 Electric Lady Blouse
Bring bright colors back into your style rotation with the tie dye Electric Lady Blouse t-shirt. This is your basic tie dyed V-neck top. Added details include charming cinches at the hip. This top is great for lounging, relaxing or a casual day with friends; pairs great with jeans or jean shorts for summer.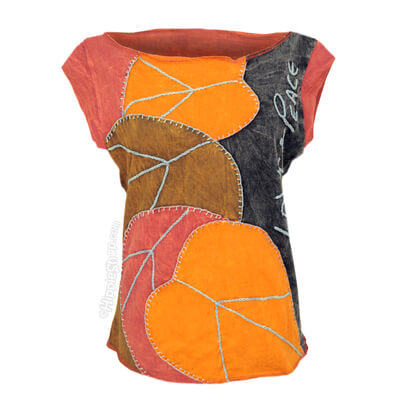 Abstract Love & Peace Blouse
In true Hippie style, the Abstract Love & Peace Blouse is made from recycled materials. This boat neck style top has a delicate looking appearance and pairs nicely with a simple necklace. It looks a bit like a collage of large peace signs patched together; the words "Love and Peace" are embroidered vertically along the side. Made from 100% cotton, this top looks incredibly soft. Another tee that would pair nicely would jeans or slacks.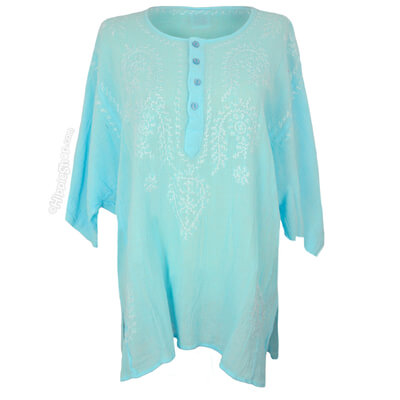 Classic Kurta
Handmade in India, another great top for the summer is the Classic Kurta. Delicate embroidery along the front adds elegance to this shirt, making this "Classic Kurta" a good option for the casual work day. Available in multiple colors, this shirt is made from 100% cotton keeping it airy and light. If you like the style of the Kurta but want a little more Boho flair, check out the "Tie Dye Crinkle Kurta." Similar to the "Classic Kurta," the "Tie Dye Crinkle Kurta" is also 100% cotton but with a bit more color and flair. Slightly longer sleeves and four buttons at along the neck add some casual detail to this relaxed top.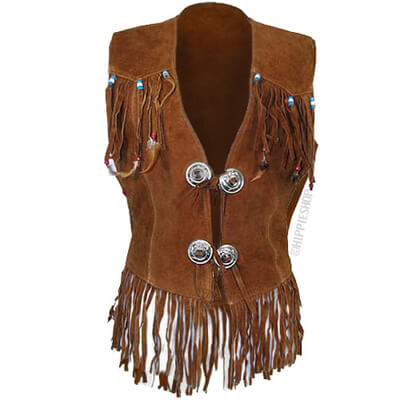 Hippie Style Leather Fringe Vest
The "Hippie Style Leather Fringe Vest" makes the perfect finishing touch to any fashion top. Incredibly soft, this unisex suede vest has a playful fringe and is adorned with funky beads and feathers. Is the hippie style tickling your fancy? These are just a few of the shop's fashion items. For a whole world of hippie fashion, check out the rest of the shop.