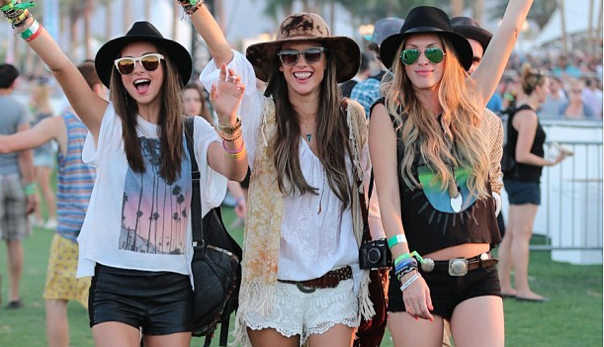 Festival Season 2017 has officially started, we can go on about all the impressive bands and artists that are scheduled toperform this year, but let's talk festival season fashion instead. Festival season fashion can be a tricky road to navigate. You want to look fashionable and cool but you must also consider the elements you will be up against. Mother Nature can be very uncooperative at times; you never know if you will be in complete sunshine or a tremendous downpour of rain.
Attending a festival can be a complete test of your endurance, your wardrobe should be able to hold up just as well as you do. Let's start with footwear. Who doesn't love shopping for shoes! A fun sandal with an edgy bohemian vibe is an excellent choice to go with your denim shorts, sundress or even a romper. One of our favs is this adorable pair with pomp om accents from Sam Edelman. If you prefer a bootie ASOS.COM always have an amazing selection on on-trend styles at very affordable prices for a girl on a budget. We love the studded ankle wrap feature on the ANNA bootie.
Rompers have been featured on runways for Spring Summer 2017 so we are sure they will be abundant at the festivals this season. Some of our favorites are from LuLus.com Denim cut offs are a staple for many chicas rocking out to their favorite bands. They are a must have for the summer months, and are great for any festival. Keep the look easy and comfortable with a graphic tee, a fun colored bra, and lots of accessories to spice up the look. Festival fashion is fun and whimsical so go with what makes you feel good and stay comfortable. It can be a long day and night for you and your girls!