Although nightgowns for men aren't the most popular choices when it comes to nightwear, they are extremely comfortable and can suit a number of occasions. These nightshirts come in many lengths, sizes, materials and styles, but all provide a perfectly adequate garmeant for men to sleep in. Finding these may prove to be a bit tricky, but with a little research, tons will be at your fingertips.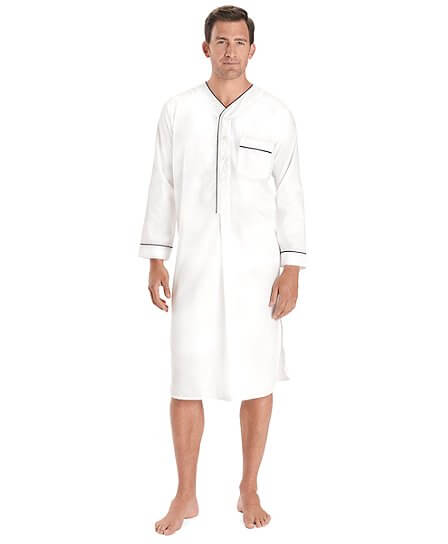 Wrinkle-Resistant Broadcloth Nightshirt from Brooks Brothers
The two most popular styles are the button up and the pullover nightshirt. Both provide extended coverage without requiring pants, yet they look different - and can be worn in different ways. The pullover nightgowns are ideal for people that don't want to mess with buttons or other closures, and those with buttons can be undone to allow for more air circulation and breathability for the wearer. Of all the available materials, wrinkle resistant nightshirts are ideal for those that are restless sleepers, because the material always looks fresh - even if it is not. These nightshirts can be worn for multiple days without losing their snazzy appearance, which can be helpful to those that are bedridden, or cannot easily change their own clothing. For this reason, nightgowns for men are especially popular with older wearers.
These nightgowns are a lifesaver if you or someone you love needs extensive home care or lives in a nursing or retiremeant home. They can be easily lifted when using the restroom, changed without getting out of bed, and are lightweight enough to be used in all climates. One popular place to find these nightgowns online is bhmedwear.com, which offers a "one size fits most" option in many different colors. Another popular choice is the V-neck style Brooks Brothers nightshirt. Although this only comes in two color choices, it is more sophisticated and durable. Much like the pullover nightgowns, a shower poncho is also a good addition to any man's wardrobe.
For those that have difficulty with mobility, or simply just want to head to their shower without a robe or other clothing, one of these ponchos definitely meets needs. Found online at alimed.com, these ponchos don't have sleeves or closures, and some even come with attached hoods. Keeping all of the necessary body parts covered on your way to and from the shower or bath, shower ponchos are capable of being totally washed and dried, and will keep you warm and comfortable throughout your trip into the bathroom.