If you belong to the group of small-breasted women, there are great chances that since you've discovered padded bras they have become your B.U.F. (best underwear friends). Wearing a padded bra not only enhances your breasts and makes them look larger but they also improve your ego, self-esteem and sensuality. Is there anything else you can ask from a lingerie item? Not much except from the fact that the enhancemeant should look natural on you.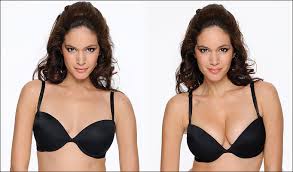 Before and after wearing a padded bra.
If you have already bought a padded bra and the final result was not the one you expected it is very likely that you've chosen the wrong padded bra for you. It's not difficult to make such a mistake: with the wide variety of shapes, styles, colors and textures of padded bras you can easily make the wrong choice! That said, in this guide you'll learn how to find the perfect padded bra for you that not only improves your cleavage but also fools everybody by leading them to think that those sexy boobs are all yours!
What To Consider When Buying a Padded Bra
Almost every woman has a padded bra in her lingerie drawer. It is practical, very popular and it can be used on multiple occasions: from daily use to a night out or to train at the gym. When buying a padded bra, these are the most important things that a woman should take into consideration: how it is designed, the advantages of a padded bra, and the benefits you'll gain from wearing a padded bra.
How Is A Padded Bra Designed?
A padded bra contributes to the perception of a fuller and larger bust line as it includes padding in the cups of the bra. This additional padding makes this style of bra particularly comfortable and this is why many women use them regularly even if they don't belong to the small-breasted group. A padded bra can come with removable or permanent padding. Removable padding can be inserted into the cup while the permanent one is sewn and cannot be taken away.
In order to full anybody while wearing a padded bra you should look for a padded bra with graduated padding. In other words, for a padded bra whose padding is thicker at the bottom of the cup and thins out gradually towards the top as it imitates the natural form of your breasts. The padding of a padded bra can be made out of a variety of materials, amongst them we can meantion: water, cotton, foam or gel. When buying a padded bra, feel the different textures of the paddings so that you can see first hand which filling you like the most, feel the most comfortable and more natural.
What Benefits Come With Wearing a Padded Bra?
Not only small-breasted women can benefit from wearing a padded bra. To begin with, a padded bra will enhance your bust line. Depending on the style of padded bra you wear and the amount and size of padding it has, a padded bra can add a full cup size or more! What's more, a padded bra will benefit you with a larger amount of cleavage! Besides, they are highly recommended for women with sensitive breasts. The padding makes bras much more comfortable to the skin and prevents your nipples from showing off in cold temperatures (which, let's admit it, can be pretty embarrassing!)
Padded Bra: Choosing the Correct Fabric and Style is Essential
Since your point is to fool everybody wearing a padded bra, when buying yours you should bear in mind that choosing the correct fabric and style is essential in order to make sure that your enhanced boost line looks not only sexy and attractive but also natural. Some of the most popular styles of padded bras are underwire or demi cup bras. Whichever you choose you can rest assured that you'll enjoy larger and more lifted breasts. As regards the fabric, you need to choose one that doesn't make your bustline look textured or bumpy. For instance, cotton, nylon or satin should be preferred over an embroidered padded bra or a lacy one. As it can be appreciated, there's no secret behind purchasing a padded bra that can fool anybody. Paying attention to the shape, style and fabric of the padded bra you choose to buy is all you need to have a gorgeous cleavage.