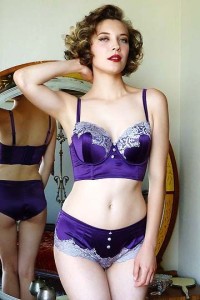 The stunning combinations: dazzling peacock blue and sensuously alluring raven black really make the winning difference here. Another option is a dreamy soft shell pink and pearl white. A general favorite is an enchanting imperial purple and grey. Parfait's 'Danielle' has a sense of lustful detail with its desirable rose patterned lace, complimeanting the gleaming satin. A trail of dark black buttons follows between the cups and the top of the knickers. This enhances the look and feel of the whole set. With its timeless design and presence, the set is automatically infused with a sense of romance. One can't feel anything but sexy when wearing this, comfortable yet alluring design.
Diversity in Sizing-Danielle Takes the Lead
The Danielle collection welcomes diversity with the availability of two different styles in the bra and another two different knickers styles to complimeant it. There is the underwire contour bra and the long-line style bra, both designed intelligently and for perfect uplift and comfort. To go with the bra styles, are the high waist brief panty and the shortie-panty. One of the best qualities of the Danielle Collection is that the bra is always a perfect fit with its correct cup volume. This off course means women are free from all the squeezing and falling out.
A genuine standout:
Just like the Charlotte Collection by Parfait, Danielle has been an instant hit and that too for absolutely valid reasons. Parfait has indeed created a both sensually arousing yet comfortable design. Danielle is a unique set of lingerie, with very few competitors in the market.
Better than Competitors - Why?
Even though there are other competitors in the market, Parfait is the leading favorite brand among its customers. Parfait gives you great, stunning designs that are comfortable. Their winning feature is the reasonable pricing. A very high price point is not affordable by a large chunk of customers. This brand provides great, everyday functional bras, with a modern design. The colors, the luxury lace and that too at a lower price! It's no surprise Parfait's piece has become such a great choice for the ladies.