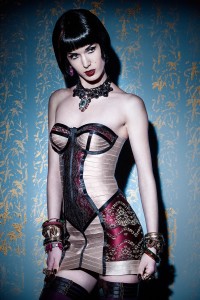 Lingerie can spice up your life in a number of ways. From adding to your confidence and self-esteem, it can also add some flare in the bedroom. Perfect lingerie means perfect fit, great fabric and perhaps an added bonus of sexiness with a definite focus on comfort. You make lists before grocery shopping or going to the market to make things easy don't you? Well Lingerie deserves equal introspection before the great splurge during a shopping trip. You don't want to repeat an item nor do you want to make a second mishap buy or worst of all; exceed your budget! Here are some essential factors to keep in mind before buying that sexy black corset or that super comfortable lace set.
Comfort and Lingerie Go Hand in Hand
Not knowing your bra size in a variety of brands is as detrimeantal to comfort as the right shoe size, if it doesn't fit well, you would probably reconsider purchasing that oh so tight or oh so loose bra. Just measure up! You can start at home with a measuring tape, online web-stores like those of Victoria's secret can also help generate your perfect size or you could simply get that done at your favorite lingerie store. Having a preference makes buying the right lingerie easier because there is less variation within the same brand.
Style Maketh Lingerie
Do you know what style that sexy little number on display is? Do you like that style more than others and want more of just that? High waist and retro fit underwear, for example, is for those who desire the 80's film star feel. Boy shorts are for those that enjoy the tomboy look, Push-up bras are for those that want some extra oomph and lift, finally, a strapless bra would be for those who are looking to wear a strapless dress, without the hassle of those embarrassing spaghetti popping out and about. There is a lot of variety out there so research and get what is desired for the occasion and try to limit it to that. Don't go crazy shopaholic after a look at the goods!
Get as Many Colors as Possible
When buying, always consider your everyday wear and how easily the color of lingerie will impact it. At times, wearing loud colors under light clothing can be embarrassing and distracting, color code your undergarmeants like you would your socks, stock up on the basics. Purchase a range of colors from peachy pinks, nudes, whites, blacks etc., so that you have a range of color to choose from for your next outfit. But, basically a lot of color in your lingerie drawer is not going to hurt.
Balance Price and Quality
Research your lingerie on the internet well and go for durability; it is hardly fun when that expensive little cloth gets faded quickly. Read reviews and be smart about purchasing your items. Also, pro tip: ALWAYS READ THE LABEL and wash accordingly to help increase your lingerie's life. Proper washing goes a long way in keeping the quality of any fabric. Remember they don't call lingerie "delicates" for nothing!