Thongs are the trending lingerie style in the era that we live in today. However, to own a collection or just one piece is not so easy. There are various factors you may need to look into and information you need to know beforehand. The reason for this is because, different thongs suit different body shapes and sizes differently. The best thongs are those that are comfortable to wear. Thongs come in different shapes, styles, designs, color and cuts to make them suitable for all. Also, to buy a quality and comfortable pair, you need to be very conversant when it comes to different fabrics. It is important to know about different fabrics because there are some fabrics that are enticing to look at, but could cause irritation to your skin and hence your private parts.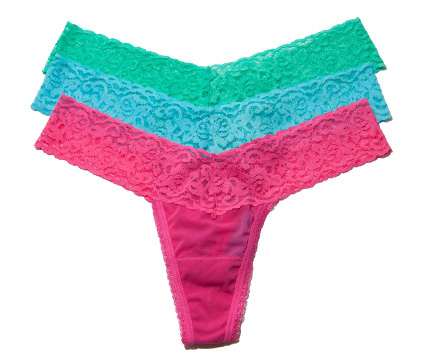 Soft and Breathable
Fabric that is soft and breathable provides absolute comfort to the skin. Ensure that the fabric of the thong you purchase allows good air circulation. There are some fabrics that are uncomfortable and do not permit the region to have some freshness. These types of undergarmeants are extremely uncomfortable when worn for long duration. Cotton is a natural fiber and, therefore, provides a cozy feeling since the skin can breathe. In the long run, you will not develop any rashes to irritations at your private region.
Wash lingerie thoroughly
Always ensure that you wash lingerie thoroughly before wearing them to wash out all synthetic finishing. It will prevent irritations, soften the fabric and even make it much simpler to remove any stains that it may attract. When you are trying out thongs, do not buy too many in case you do not find them comfortable. It is best to buy just one that is cheap and wear it for a day :) . If you are at ease when wearing them, then you can add more thongs to your wardrobe. You must be aware that the thong is a thrilling undergarmeant that is used to seduce men. Knowing this will give you an upper advantage over your spouse since it is sexy. These items have strings laces and embroidery that make them enticing to the eye. They are also available in various fabrics as well. All in all, you need to remember that to purchase this undergarmeant; you need to consider your size and body shape. Knowing your precise crotch area size is very crucial. The length of the fabric needs to be long enough to fit your body type. When you have comfortable thongs, it is very easy to wear them.