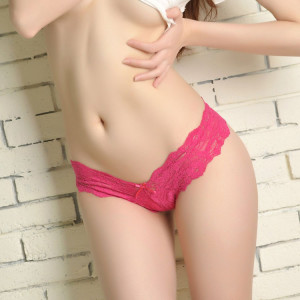 Women are quite narrow-minded when thinking and choosing sexy panties. A large number of them seem to pair sexy panties with minute lacy thongs or tiny silky see-through panties or tulle bikinis with only stripes on the hip area. However, the universe of sexy panties is definitely much wider and varied and, taking into consideration that not every woman is proud of her butt and hip area, let's admit that those tiny panties do not flatter every body shape. In this article, we aim at broadening women's mind and inviting them to appreciate the wide variety of sexy panties that the lingerie industry offers. From French-cut to boy-shorts, from thongs to bikinis or culottes, sexy panties can be stylish, comfortable and practical.
Basic Step For Choosing Sexy Panties
Firstly, before you even start looking into the different styles of panties available in the market it is of utmost importance that you know what size of sexy panties you need to purchase. Believe it or not, not every woman is aware of the size of pants she should wear. Fortunately, there are many free online panty size calculators that can help you know your size accurately. This is important because you can wear the sexiest lingerie but if it is too small or too large for your body it will definitely not look sexy on you.
Boy Shorts: Sexy Panties with a Manly Look!
Boy shorts can make great sexy panties. They are flirty and fun and they offer excellent full exposure without giving up on sex appeal. They are the most adequate type of sexy panties for women that are quite self-conscious of their butt and don't want to expose it completely.
Bikinis: What Most Women Choose as Sexy Panties
Bikinis have traditionally ranked amongst the most chosen sexy panties. Depicting high-cut legs and low waists, they are ideal under low-rise clothes. Many bikini models are flirty and youthful and ultra comfortable as they offer the right coverage while leaving some flesh for the man to appreciate. String bikinis are fairly sexy panties and they are especially comfortable as the string can be placed a bit on the upper side of the hip area thus visually elongating your thighs. What's more, most bikinis are beautifully decorated with embroideries or lace that contribute to making you feel more glamorous and sexier.
Culottes: The Ultimate Trend in Sexy Panties
Culottes have become the ultimate trend in sexy panties lately. They flatter almost every type of body shape as they offer full coverage of the butt while having a sexy cut that makes it look rounder and sexier.