There are many different types of makeup used to enhance the natural beauty of a woman's face, but very few areas are focused on as frequently as the eyes. From dramatic to minimal, eye make-up styles exist for every possible occasion, and can be tweaked to suit an individual's needs. One trick that many women use to make their eyes stand out is creating the illusion of larger, brighter eyes with a bit of makeup and some skill.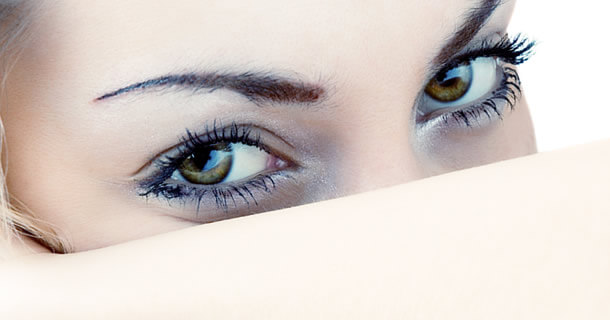 To create the appearance of bigger eyes, there are many things that can be done, and a multitude of different tools to use. One tip is to use white eyeliner on the bottom rim of the eye. This trick makes it appear as if there is no "edge" to the bottom of the eye. From there, the process continues by adding a light shade of eye-shadow to the entire upper lid, followed by a metallic silver or white on the upper brow bone. The key is to use the colors sparingly - there is no need to cake on the makeup to achieve the desired effect.
Many people use white or silver shadow near their tear ducts and on the inner corners of the eye, which blends into the white liner, creating a seamless effect. Applying eye liner and mascara can be somewhat stressful, especially when trying to create a new look. Remember, the goal is to create the look of a larger, brighter eye - so there should be very little in the way of dark, heavy colors. The eyes should be lined with thin, clean strokes. Heavy lines will detract from the overall effect, and will make the eye look smaller. In order to protect the other makeup from being marred by mascara application, use a piece of stiff paper between the lid and upper lashes, and hold in place for 20 seconds to ensure that the mascara is dry. The same process works for the lower lashes, too.
Curling the upper lashes is the final step in the application process, but it is also an extremely important one. To clean up and finish the look, use a cotton swab or specialized makeup tool to remove any excess makeup. This may include mascara, smudged liner, or eye shadow. This is also an ideal time to ensure that the different types of makeup are blended well - any visible lines, smudges or separation between colors and products may decrease the effectiveness of the eye makeup application. One extremely helpful tutorial for creating bigger eyes can be found at Brighter Larger Looking Eyes - Makeup Tutorial. The look created in this video is versatile enough to be suitable for a regular work day or even the most special of occasions, and is a very good example of how to flawlessly create a classy application of makeup.