Like women can have different body sizes, they can also have different body types. Swimwear shopping is one of the biggest devils of lingerie shopping. You must find the perfect color, perfect shape and the perfect design, because a swimsuit must show off your body and figure. Often even after buying, the best piece in a collection, you're not satisfied with the results. Why do you think this is so? It is only because we all have different body types and when buying swimwear you must consider what would suit 'your' body type.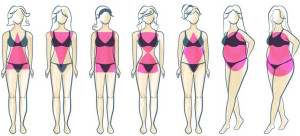 Swimsuits and You
To finally end the fear and agony that comes with swimsuit shopping you must recognize your body type and what's best for it. Starting from all the athletic frames to the curvier body types, following description will tell you how to match your body with its perfect swimsuits:
Pear Shape
for the pear shape body a balancing of proportions and more bottom half coverage is what's best. What to avoid: Boy shorts and thick banded bottoms.
Thick Stomach
For this body shape something that smooths out the middle is the best choice, like high waist and tankini styles. What to avoid: Tight one piece swimsuits.
Curvy
The curvy body types must find suits that highlight their curves, such as high-waisted and asymmetrical suits. What to avoid: monokinis and string bikinis (these exaggerate your curves rather than highlighting them in your favor.
Athletic
You must find something that flaunts off your figure correctly. For the athletic body types the lesser the body coverage the more is the illusion of a perfectly shaped figure. What to avoid: long skirted swimwear.
Large bust
If you have a large bust body type then you must try not exaggerate your upper body. The key to do so is 'support'. Bras with underwires, adjustable and thick straps should be your choice. What to avoid: Ruffles and embellishmeants.
Small bust
Contrary to large bust body types, this body type must wear tops with embellished detailing and patterns to create an illusion of a larger chest. What to avoid: Tight, plain bras. If you recognize your body type then everything's pretty simple from there. Swimsuit shopping will no longer be a nightmare. Now all that's left to do is scroll through your favorite swimsuit collections and pick a favorite that flatters your figure, perfectly!