Fashion usually goes around and comes back rejuvenated. Corsets have been a fashion hit since the 16th century and have come back to dominate the fashion scene once more. Corsets besides adding emphasis and curves to your body, they also provide comfort. There are various styles to play with depending on your persona. Besides adding beauty and making women look sexy, corsets are designed in such a manner that they fit into different body shapes, types and sizes, providing a perfect fit. Any woman can find the perfect corset, since they are available in various types and sizes.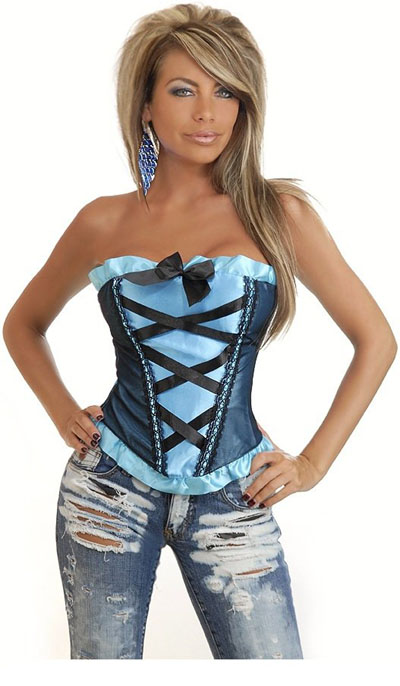 If you are a first timer with corsets, there are a few ideas that can help you incorporate this fashion item in your style, and help enhance your personality.
Lace it up over your top
If you are looking to have a classy and casual look while still feeling at ease, then this is the perfect look for you. Corset can blend in well with a top or blouse without much effort.
Corset with a skirt
Tutus and balloon skirts are the best to rock this look. The look is especially classic for a ball, wedding or any other occasion. It is also easy to play around with color while rocking various accessories.
The vintage look
The vintage look is fabulous, especially when implemeanted with a steel boned corset. A fitted bodice and waistline are characteristic of vintage inspired fashion, thus this look may require some time and experience to master.
Going Goth
The Gothic look is not necessarily reserved for the Goth girl. Any woman is at liberty to experimeant with Gothic looks, and you can rest assured you will not be disappointed. The Gothic-inspired approach for donning corsets is most appropriate for occasions such as Cosplay, Halloween, as well as band concerts. This look is also best suited for going out clubbing.
The burlesque queen look
If you are performing a burlesque show, you could incorporate a corset into your costume. A leather corset combined with a bikini will result in a dazzling look. This fabulous look flatters your figure, besides highlighting your sexy legs.
Rock corset with pants
A corset doesn't have to be for an occasion. You could just wear a corset on a normal day with pants. One thing to consider however, your corset should be long enough to cover your waistline as well. Also ensure your corset matches well with your pants. There are a variety of options to choose from while looking for corsets. Steel boned, overbust, heavy duty, west training and leather corsets are just but a few of the ones to choose from. Buying 100% authentic corsets that are of the best quality besides being organic and sturdy will ensure a long life for your corset.