Planning to finally meet in person with that phenomenal, super smart guy! You have been watching him for weeks, but didn't have a chance to approach him closer, or you have never even met him before? It is natural you have doubts about this day. We all sometimes feel less confident besides having all our assets. One is sure, today is the day you will know how not to ruin your chances. You have great personality, plenty of interests, ready to explore the world together, but stress and all those false advises from all over might stay on your way to not embarrass yourself unnecessarily.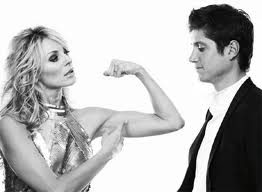 First advice from your friends you should revise – wearing a deep cleavage. It is a great idea to bring out your best body lines, but you can do it by covering them in a smart way instead of fully exposing them. Moderate cleavage hiding your best push up bra will do the miracles too, trust me on that! He will spend all night wondering what this delicious curves look like under. Let him dream about it the following night. If he is lucky, next time he will have a chance to see a hint of your lace bra under the loose feminine spring dress! Make sure you smell nice, but do not over do it! Everybody's sensory system has different tolerance, he might feel overwhelmed with the intensity of your fragrance. Besides that, you will not have a chance to inhale his incredible cologne! Subtle perfume traces are sexy and desirable, however if your shower yourself in it, you leave no job for your pheromones.
Have your hair fresh. Fresh hair leaves a tempting aroma and is described by men as a very stimulating feature. It does not matter how you keep it. Wild or neatly combed. The whole point is in the cleanness. Another particular asset some women do, some don't have is sophisticated feminine moves. They are not easy to learn, but practice is essential. A man pays attention to women with grace. Even if he adores army styled women, what melts his heart is that subtle hint of grace that makes her different from a regular tomboy. Grab a glass or key with three fingers instead of the whole hand, let him help you with the chair instead of showing him how great you are in pushing the table away. Be a lady. Not the high-maintenance one. The honorable one. Be diplomatic. Do not ask him about ex girlfriends and embarrassing momeants of his life. An embarrassed man will not try to start going out with the woman who caused his wrong image awareness. Also, do not meantion your long life problems first you see him. If you eventually become a couple, you have a right to count on his support. Not now, when you actually want him to notice your existence.
Keep a little of mystery about yourself. You want him to meet you again for better portion of information! From men's perspective, the less woman talks, the better impression of her they get. They are not good at following a stream of words in a short time. They like to read from your face expressions and body language. Let him. By the time your one on one is over, you would like to know about each other's particular skills and interests. This is the momeant he will listen. Men are action-oriented and he will not get bored easily. Let him know about your best scores in running or great passion for cooking. Just be careful. Don't be silly and recall the dumbest incidents from your life. He doesn't need to know yet how far you spit or how much you can drink before start puking. These skills are irrelevant! Overall, remember, do not create your new yourself for him. Be yourself, but save some things for later. There is no need to hurry or to overdo the behavior you normally do not do. After all, you are best at being yourself.