Bras might seem like complicated contraptions, but if you're nifty with a needle and sewing machine, making a bra can be a cinch. After all, the first bras ever made were hand crafted. Getting the sizing right with homemade bras may take a bit of trial and error. However, making your own bra is a great way to get perfectly conformed breast support, customized exactly to your personality and taste. There are some fantastically talented online bloggers with easy to follow step by step instructions with pictures on how to make your own bra. This tutorial even includes directions for adding a touch of padding to your bra.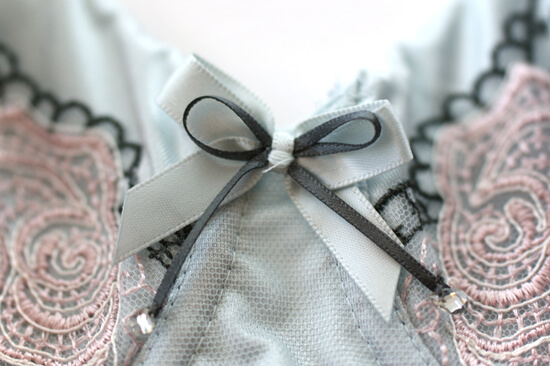 The key elemeants in making your own bra are accurate measuring and precise sewing. As most women already know, proper fit is especially essential when it comes to bras. However, this is where making your own bra can also have enormous benefits; if you find that you can never find a bra that fits just right, now you can perfectly fit, sew and tailor it to to your size. When you're designing your own bra, the choice is yours whether or not to include an underwire. The best way to find underwire is by salvaging it from old bras. Note, however, underwire is designed to be difficult to reshape, which means if you are reusing an old underwire, make sure it is from your actual cup size.
Some craft and fabric stores also sell underwires. The other option is, of course, to make a bra without an underwire. Although they generally offer less support, this style of bra is extremely comfy for slipping into after a long day a work while lounging on the couch with a pint of Ben & Jerry's. If you've made your bra, and find that it doesn't fit quite right, the most common culprit is that the cups need to be reshaped. Particularly with your first bra, getting the cups just right is probably the most difficult part. Another common issue is with the bra band in the back.
If you find that your bra band is riding up in the back, check that the band fits snugly, and that the cups are not too small. After you have finished making your bra, you can add all kinds of frilly details as finishing touches. Add some lacy edging or a tiny bow to take a plain bra to the next level. The possibilities are endless; happy sewing ladies.