When in the mood for absolutely stunning underthings, I've learned to look no further than La Perla and my personal favorite, the Donna Agata Balconette Bra. It was with trepidation that I tried this bra, as most of La Perla's offerings retail in excess of $200.However, there is a good reason for this pricing.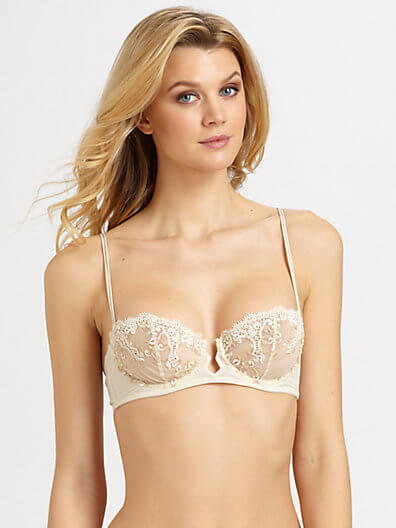 Unlike other bras that fade and stretch with each wash, La Perla's are made of high quality material. The straps are fully adjustable. As with any balconette, there is the possibility of the cup overflowing, especially with the 36D I normally wear. Therefore, correct sizing is very important to ensure a comfortable fit and no wardrobe mishaps. The fit and detail of the Donna
Agata is amazing. Perhaps it's the handmade details that do it, but there is something exceptional about this bra. The one I splurged on comes in a marble-white shade so innocent and yet so decadent at the same time, that I feel special when I put it on. The fabric is soft and the lace scrollwork still looks fabulous after several hand washes. A balconette like the Donna Agata puts everything out front, so comfort and support are of the utmost importance. Fortunately, the soft tulle cups and underwire offer both.
While I got mine at the full retail price of $268, it is possible to find this style at lower prices. Of course, proper care is very important to keep in mind when it comes to intimates, especially bras. I opt for gentle cleaners that aren't full of harsh chemicals or detergents, to keep my bras looking newer longer. La Perla is known for its sheer fabrics, lace, and embroidery, which means it is important to take special care with their products. With a bra as lovely as the Donna Agata, this kind of gentle treatmeant is vital for long lasting wear.