Recently Rihanna, the singer, an activist and a business woman, who made a revolution in makeup industry by creating shades of all the possible color hues, introduced a new business to the world. Are Rihanna's bras revolutionary, do they represent the styles or fabrics totally new on the market? What to expect from he lingerie collection Savage x Fenty? Definitely, like her cosmetics, women of all colors and shades will find the matching nude bra to blend in their complexion. The basic T-shirt bras in Rihanna's lingerie collection are available from Bare (very light complexion), through Honey, through Brown Sugar, Tobacco, Spiced, Cocoa till Caviar - the black colored bra. Most of Rihanna's lingerie collection is made in modest and a bit sweet style.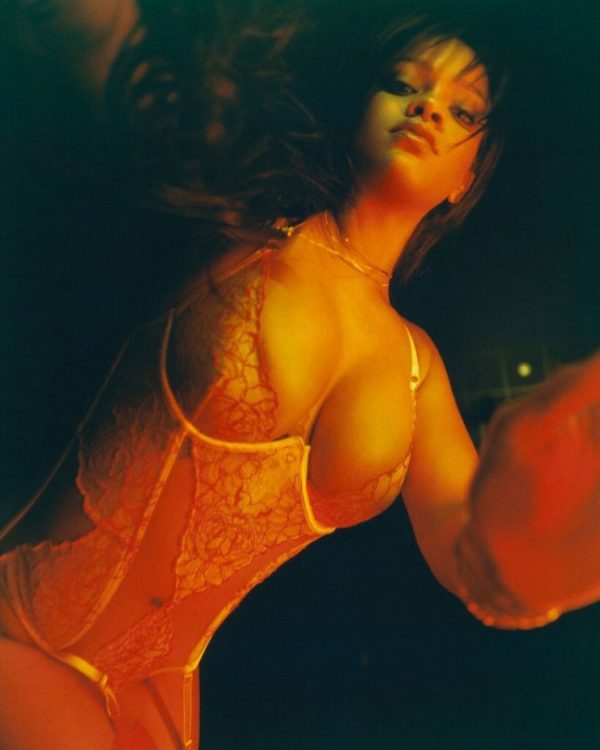 You can find bikinis in classic and high waist cut, a few lace bralettes. However we would expect more risky, burlesque like bras and panties, even BDSM inspired lingerie, what she promotes so well in her music videos. Let's hope it is all in Rihanna's plans since she divided her lingerie collection into 4 subcategories: On The Reg (classic every day), Black Widow (satin), U Cute (lace cuties) and Damn (sweet corsets). But there comes a bit of disappointment if you are a plus size woman who gets desperate to finally find a fine piece of lingerie or sexy DD+ bra. In the times when lingerie business needs wider range of sizes to satisfy more women, you can not come up with a line up to DD bras and call it inclusive and revolutionary (there might be DDD introduced too). Especially if you aim at women who want to embrace their proudly round bodies, you can not stop at sizing the sexy underwear up to size XL... Also, it is not revolutionary to show models wearing the wrong sized bras and promoting the wrong fit. Many famous bra makers have done it already.
Microfiber T-Shirt Bra from Rihanna's bra collection. There is nothing wrong with the bra, perhaps with the size? Making bras for "all shapes and sizes" should not mean making full breast shapeless and droopy. A perfect example of a woman that wears the wrong size of bra.
We are always excited when another celebrity comes up with a bra line instead of another perfume. It would be awesome to see Rihanna go after Dita von Teese or Britney Spears bra collection that doesn't stop at DD cup. bThe bras that are for wider range of women shapes and needs. Savage X Fenty bras are made either in small sizes up to 38D or the plus size bras start only from 38DD (no 36DDD nor 34DDD nor 32DDD, not mentioning G or H cup bras) to go up to 44DD. It is OK to make bras, but the promise of this line sounded differently: "Inspired to create a line of intimates that celebrates and speaks to all shades and shapes, Savage X Fenty will celebrate fearlessness, confidence, and inclusivity. In partnership with a team assembled from the industry's elite, the label is braced to disrupt and redefine the marketplace with its accessible price point and full range of nudes." Rihanna's bras collection doesn't celebrate the confidence, because it doesn't offer the support to many women. It is not inclusive and it doesn't define anything. It just copies known bra styles with the same made in China fabrics. The idea of offering a lot of shades of nude is the strongest asset of Rihanna's bras, however it has been done before and done well in Nubian Skin - the true rainbow of nude bras. Calling Rihanna's lingerie revolutionary or redefining the bra market and calling her a "queen of inclusion" is a big misunderstanding. And one more thing. Rihanna, please see a professional brafitter for yourself. Do not make lingerie that most of us will not fit from the top or bottom or both, if you want to be revolutionary.
The corset is cute, but please Rihanna do not promote wearing ill fitting sizes and call it for "all shapes and sizes". This is what you get after squeezing a giant boob into just a DD cup.
My favorite part of Rihanna's lingerie are the high waist briefs and bikini panties with lacy
ack. They are very sexy and available up to size 3XL, with many soft colors to choose from. Actually they are so adorable that they can easily be advertised as lace panties for men as well, as the front and back are made from delicate nylons in small to very large sizes, so loved by cross dressers.
Really comfy and tasty looking panties with adorable lace back. This is sexy.
Rihanna's bras, panties and corsets can only be purchased after becoming an Xtra Savage member, with yearly paid membership. A smart thing to do after offering free shipping and returns, the $50 membership has it all covered... taking that an average woman doesn't shop for bras as much as 10 times a year. As seen on the website right now, about 80% off Rihanna's lingerie is sold out, does it mean that the bras will be made only at pre-order aka membership basis?