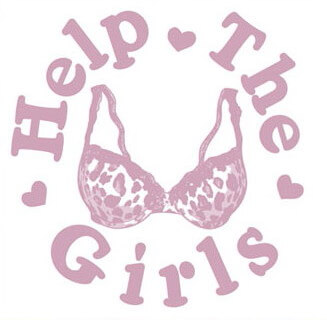 Have you donated a bra to the campaign yet? Share a commeant! Most of us women have a plentiful assortmeant of bras to choose from daily; we take for granted that bras are affordable and that we can pick and choose between countless styles, materials and colors. However, around the world, there are thousands of women who have never experienced this luxury. In an effort to not only raise awareness, but bring bras to impoverished women around the world, Lacy Hint is teaming up with Not One More, Inc. in one of their latest projects called Help The Girls. The campaign is dedicated towards supplying impoverished women around the world with new bras. According to Not One More, Inc., in some poverty stricken countries, new bras are such an expensive commodity that throughout their lifetime, many women will never earn enough money to purchase one. Not only do bras bring a sense of comfort and dignity to women, they also help to improve unsanitary living conditions.
To help support the cause, with every bra purchased using the code HELPGIRLS, Lacy Hint will donate a new bra to the campaign.
Get a new bra for yourself, and enable a disadvantaged woman to receive a new bra.
You can also donate your old bras to the Help The Girls campaign directly. Drop off locations are being set up across the country or you can contact the nonprofit directly at (842) 602-2273. In addition to your extra bras, it is asked that you send along with a $1 donation to help offset the shipping costs of bras that will be sent out regions such as Fiji, Kenya, the Philippines, and Sri Lanka. Not One More, Inc.'s goal is to raise 20,000 bras before the end of the year when they will start shipping them out to women across the globe.