Are you asking yourself, "How in the world do I organize and store this pile of mess supposedly called lingerie"? You're not alone. Most women have no idea of lingerie storage ways that ensure it stays in the best possible condition.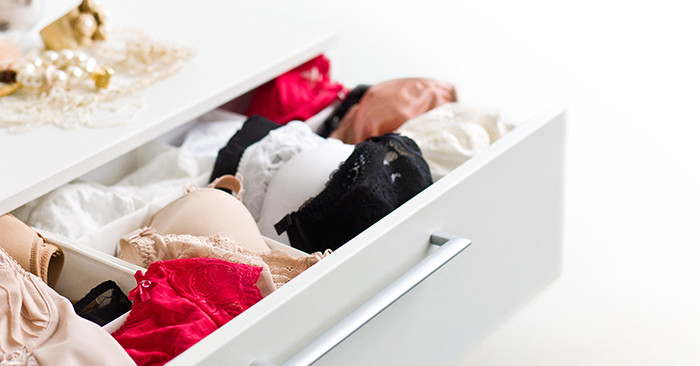 The first order of business is to dump the whole mess out on the bed, because before you can organize your intimates, you must separate them into two piles:
Lingerie to Keep & Lingerie to Throw Away
First, toss out pieces that you simply wouldn't want to be caught dead in! Next, group together lingerie pieces that used to be white but are now a grayish color; anything ragged, torn, discolored, or having small holes. Next, look long and hard at what's left; if it hasn't been worn in at least a year, there's got to be a reason. If your garmeants are faded; seams are unraveling; elastic is nearly non-existent; under wires in bras are poking out; or items are shapeless from too many washes, it's time to file these intimates into file 13 (trash).
The matter of importance is the amount of lingerie you choose to have. Lingerie storage styles are up to each individual, and how many ways your store your items is completely up to you. If you choose to minimize your list, a few sets of cotton panties and some stretch camisoles are enough. The collector may need much more lingerie storage space, but if you want to simplify things, you'll only need enough plain underwear to make through the week and a few special occasions.
Lingerie Storage Easy Ideas
After you have down-sized your lingerie collection, you'll need a storage system that allows you to see what you have easily so that you are able to locate things without any trouble. If you have a large collection, it may be easier to store your lingerie in a chest or purchase drawer dividers. There are some dividers for storing your lingerie that divide a drawer into twelve squares; made of acrylic because wood can snag.
Keeping your underwear in sets is also appealing and an excellent time-saver: Fold one cup of a bra into the other; tuck folded panties inside cups; and arrange the sets by color. You'll appreciate your effort the next time you go to choose a matching set. Make sure to reserve storage space for "that time of the month" underwear, that we usually don't bother to match with anything but our mood! Making the effort to organize your lingerie can go a long ways into saving you time and money (you won't be spending so much when you're intimates are stored in a way that allows them to last longer).