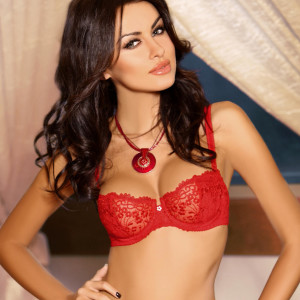 Finding the right bra for your dress is not always easy. This is probably not new to you as you usually unsuccessfully spend quite a lot of time trying on different bras to see which one is a perfect match for your dress. That said, learning the clues to easily match your underwear with the dress you're wearing is not a minor issue. Whether you want to wear a silk halter top, a spaghetti string summer dress, a backless evening gown or a strapless maxi dress, you don't need to go bra-less or showing unsightly bra straps or bands. Fortunately, bra designers have designed a wide variety of bra styles that can virtually fit any outfit.
Check Your Bra Size
When looking for the right bra for your dress it is essential that you know your bra size. If the bra is too small or too big for you it will be uncomfortable, it won't provide you with the support you need and your overall look will be tacky and untidy. Most lingerie stores have staff especially trained to do breast measuremeants and to suggest to you the style of bra that best suits your figure and style.
Choose The Color of Your Bra
Relying on traditional bra colors such as black, white, red or nude is a safe choice as they can match any dress color. However, you can leave your comfort zone and make a statemeant by purchasing a bra that exactly matches the color of your dress. Nowadays this is a challenge quite easy to achieve as bra designers offer bras in almost every color and shade of the rainbow: pink, light-blue, purple, burgundy, deep blue, silvery grey, pearly white, brown, emerald green, yellow… you meantion! One of the advantages of wearing a bra whose color is a perfect match with your dress is that in case a bra strap slips out, it will not be so noticeable.
Make Sure It's The Bra You Need
Bra designers create different to satisfy diverse needs and uses. Just as you wouldn't wear black lacy underwear under a white dress or a bra with wide straps under a summer spaghetti string dress, it is important that you match the right type of bra to the kind of activities you'll be doing throughout the day. For instance, wearing a comfortable and breathable sports bra is essential if you plan to hit the gym after the office or choosing an embroidered push-up bra is the best option if you have a date with your special someone and a plain light bra is the way to go if wearing a piece of clothing with a light or sheer fabric.
With or Without Straps?
Convertible bras are a great invention! They offer versatility as they can be used with a wide variety of outfits and dresses. Investing in a convertible bra is a very good decision as you can wear it with a strapless dress or under a racer-back outfit as the straps can be altered to suit the cut of any style of dress or top.
What Material is Your Bra Made Of?
Part of knowing the basics of matching the right bra for a specific outfit depends on matching the right material. Lacy bras can be easily noticed under sheer or tight fitting clothes, in which case a seam-free bra is a wiser choice. Thick clothing is great for lace bras or those heavily embroidered as all the details of the bra will be unnoticed under the thick clothing. As it can be appreciated, matching bras and outfits is not so difficult. There are different aspects you need to take into consideration but once you learn the basics it will only take you a few minutes to decide which bra fits your outfit best.