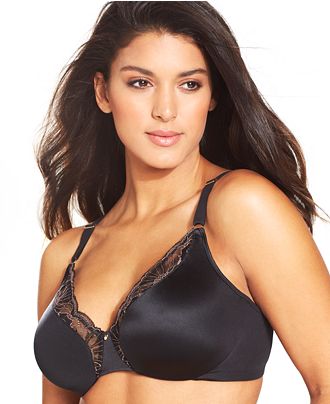 We are always listening to small breasted women complain that they want bigger breasts, but how about us girls who have breasts that are too large? No, not mammoth proportions but big enough that any man who meets us seems to think that our eyes are at chest level. What is even worse is if you are small woman with bigger breasts, they look even bigger than they really are.
The never-ending saga of finding a bra is timeless when it comes to big-busted gals. Like most, we want to appear smaller. So what do we do? We buy a minimizer. It sounds great in the beginning, but minimizers are not all that great in the end. My experience begins at Macy's where after looking for 35 minutes through racks of bras, I found one style that I thought might do the trick. It is by Lilyette. With my numerous bras in hand, I marched off to the dressing room.
After trying on about 5 different sizes, I finally decided on a 34D in black with smooth cup. I was ecstatic as I put on my sweater to see if it looked better than my other bras I had at home. To my delight, it did! I twirled around the dressing room as if my breasts had been surgically reduced to a 32B. To make a long story short, I was pleasantly surprised how much better I felt when I did not feel like everyone was looking at my chest.
Unfortunately, this was short lived. After wearing this bra several times, it lost its OOMPH and I realized that my breasts looked like two sagging sacks of pizza dough in my blouse. Though this Lilyette bra looked great to begin with, it failed to measure up to the hype. I have now continued on my search again to find a bra that can support and flatter the natural shape.