For many women, choosing the right lingerie piece from the wide variety of items available in any average lingerie store is not easy. However, it's not a question of not finding the right fabric, texture, color or even style of lingerie they want: for some reason or other, whatever underwear item they buy doesn't seem to look as natural and sexy on them as expected. If you feel identified with the above description and have a pile of only-once-worn lingerie items in your underwear drawer, then this article has come to your rescue. Have you considered that perhaps you are not choosing the best lingerie for your body type? Not all outfits look the same in women with a pear shaped body or with an apple shaped body. According to your body type, you have to pay attention to what physical assets you should or would want to hide and which ones you should definitely take advantage of.
Lingerie for Ruler-Figured Women
Even though many women may envy your slim, linear silhouette and may think that any lingerie you wear looks great on your body, you know that it is not true: your lack of curves makes it tricky to find lingerie items that look really sexy on your body. The key is to go for lingerie that adds curves to your figure. For instance, bustiers that will push up your breasts and corsets that will pull in your waist will create the illusion of a dramatic curvy body. Needless to say, push up bras, ruffled panties and lingerie with texture that add bulk to your chest and hips will work wonders.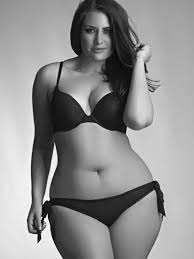 Lingerie for Pear-Shaped Women
Women with a pear-shaped body should go for lingerie underwear that strikes the right balance between showing off your curves and hiding your large thighs. That said, the best outfits to wear are little gowns that will sexily cover your thighs or two-pieces that come with lacy bras and matching mini skirts or shorts. If you choose see-through fabrics, silk, satin and lace for your lingerie you'll draw the attention to the parts of the body you want to enhance such as your appealing waist.
Lingerie for Apple-Shaped Women
Women with an apple-shaped body should focus on their breasts. Babydolls are a wise choice as they will reveal your sexy and voluptuous cleavage while hiding the mid area. Look for babydolls with a low plunge and plenty of details over the bust area. Corsets should also be under your radar, especially long line ones as they will make your middle appear narrower. These are the best lingerie items for your body type. They will make you feel comfortable and sexy and they will reveal the glamorous confident lady we all have inside.