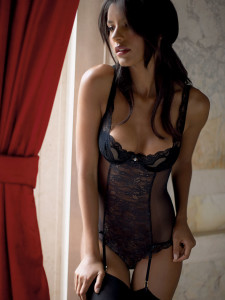 Every February when you see romantic couples around you, couples that share intimate gifts. Sometimes these intimate gifts can be lingerie too and this would make you feel like lingerie's not really for you because, well, you're single. Lingerie gifts are wonderful of course but they don't seem so wonderful on a day like Valentine's if you're single. How would you feel about lingerie if you're spending it alone in bed with a box of chocolates and a romantic comedy or few?
Here's something you really need to hear if you're already sulking reading this: Even if you're single, sexy lingerie is for you too! You would probably be thinking that why on earth would you need sexy lingerie if nobody's going to see it? And on that note, here's something else for you to know: your lingerie's not for him, it's for you! Here are a few reasons to get you convinced that even if you're as single as it gets, lingerie is still important for you! This might be shocking but at times, it's even more important when you're single.
You Feel What You Wear
'You feel what you wear', this single statemeant is all the fashion advice you'll ever need. When you wear something sexy, you feel just the same. Feeling sexy isn't something you do for someone else; it's something you do entirely for yourself, for your confidence and for your individual strength. It's funny how a single change of lingerie can do all of this for you, boost your confidence and have you feeling super attractive. Sexy lingerie isn't the root of your confidence, it's the fuel to your confidence.
Keep in touch with your sensuality
Your sensuality is actually a major factor in your life, it will not only guide you through your relationships but it will also give you the ability to get to the right relationships. Being single can at times leave you feeling out of touch, out of touch with your erotic potential, what you must remember is that you're a capable sensuous woman who can have the world in the right time. Keep buying sexy lingerie for yourself as a reminder of all that you might be at risk of forgetting when you're single and stay in touch with your lovely sensuous self! Follow these little tips and continue your happy lingerie purchases, don't let the word 'single' ruin your ride of confidence and powerful control because it doesn't matter, your lingerie is for you.