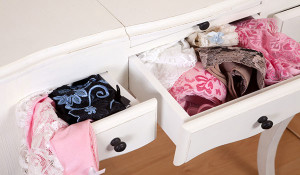 A lot of women don't believe in the concept of a lingerie drawer. First of all, get one! Women are sensuous creatures and we need all the best options both inside and out. We all hit that age when lingerie plays a pivotal role in our lives. I am not saying get a drawer and stock them with designer lingerie, although if you can, who says it's a bad thing? However, In every well-stocked lingerie drawer there are a few musts, these lingerie items are the only pieces that should definitely be inside for you to have a perfectly well stocked status.
A sexy silk slip
This item is going to be your sole savior throughout all your sleepovers and it is going to speak perfectly of your personality when you spend a night with your girls. Not only for the girlfriends, this lingerie item is great for some post-sex morninggg breakfast in bed and roaming around all around the house looking sexy yet adorable. I like my silk slips to be sort with a deep neck and a subtle lace around the neck. If it's too vamp for you, you can tone it down with a pullover or a hoodie and socks which will give you an easy to pull off look.
A matching bra and panty set
When I say matching bra and panty set, I don't necessarily mean a set from Victoria Secret that's going to cost your pocket to loosen up. You can just buy a cheap set that fits right and is comfortable. If you're looking for a place that has inexpensive sets from various brands like Calvin Klein and more. You're probably thinking why a matching set though, right? It's because matching bra and panty sets make you feel different, they make you feel confident and energetic.
Something red
Never underestimate the power of red, red will help you ace any look you want to go with. Every time I go for lingerie shopping, even if II can't buy a set, I make sure I at least buy one red panty or bra. If you get yourself used to this too, you'd slowly built a perfect red collection for yourself. Other than these specifics just make sure everything that you buy is of a good quality, reasonable price and most importantly, is comfortable for you.