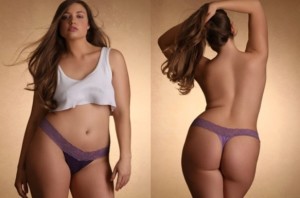 Gone are the days when panties for plus size women were dull, boring and uninspired. Lingerie designers have realized that plus size women were seeking panties that made them look sexy and gorgeous and over the last decade they have started to come up with underwear items that are sexy, comfortable and that no need to be relegated to the back of the store hidden from view. That said, plus size women can find in this list panties that really emphasize their sensuality.
Full Brief Panties: Traditional Plus Size Women Underwear
Full brief panties have been traditionally called "granny panties" by many women and they have been neglected to the farthest corner of the lingerie drawer. However, full brief panties can make sexy plus size panties in a blink of an eye if you know how to choose the right style for you. Full briefs have an elastic waist band that rides naturally around the waistline and offer full coverage of the rear area. They are very comfortable for plus size women and they can be enticing and sensuous if you choose a model with see-through tulle, embroideries, a flirty pattern or delicately embroidered.
Plus Size Women Look Nice in Bikinis
Bikinis are also a good choice for plus size women. They have been very popular for decades even amongst plus size women as there are bikinis that offer full coverage while there are also other much sexier versions that leave almost nothing to the imagination. The elastic waistband usually sits below the waist, making them a favorite of plus size women wearing low rise clothes.
Boy Cut Panties
Also known as booty shorts, they are quite new in the women's lingerie market but they have an ever increasing number of fans. Plus size women adore them as they look like a very small pair of hot pants. They are usually very form fitting and the waist band rides on the hip. Plus size women find them particularly comfortable as they have no elastic around the legs and they offer varying amounts of coverage to the rear area. For a sexier look, plus size women should look for those with embroidery or small laces or those made of sensuous fabrics such as chiffon, silk or satin.
Plus Size Women and Thong Panties
Thong Panties can be tricky underwear items for plus size women. They are considered the sexiest lingerie style available and it is characterized by a thin strip of material along the center of the garmeant designed to sit between the buttocks. The thin strip of material is connected directly to the bottom front of the garmeant and to both sides of the front via a waistband. Since it offers almost none coverage, plus size women usually feel self-conscious when wearing them. A good option for plus size women that do not want to say goodbye to thongs is to wear a flirty babydoll over them or a sexy satin mini skirt to cover your behind a little bit more. As you can see, plus size women have many sexy underwear options to choose from.