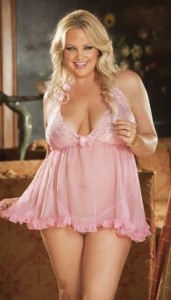 Does your Lingerie revolve around 40 D or XL? No need to worry, embrace those curves because you are beautiful. It doesn't matter how you came about this size, whether this is baby weight or you were always a curvier woman, lingerie is just one more thing that shows us why all sizes can and do look wonderful! As we all know, this was not always the case, so let's take a momeant to cheer on all the brands that have come up with excellent collections for plus sized ladies. Lingerie is one essential that most women are very particular about. Wearing something that doesn't gel with your personality or body has a bad impact on your mood. If your well-endowed, make sure your lingerie complimeants that fact.
Plus or Not, Comfort is Always a Priority
No matter what design or color you like, make sure whatever you buy, is comfortable. It shouldn't be itchy, the shoulders or the cup size should not be too small or too big, because lingerie purchases are never one-time-use items. Don't end up collecting pieces that are sexy but too uncomfortable to wear repeatedly.
Perfect Sizing equals Perfect Lingerie
If you are eager to fit in your favorite dress or look flawlessly well shaped on any special occasion, lingerie is key! Make sure to carefully measure your cup size and chest stretch. A tighter bra won't make you look thinner; it will make you look stuffed. Similarly, a looser bra will make you look and feel baggy. Lingerie without the perfect fit loses half of its grace.
Material Matters
Satin, silk, lace, leather, fishnet, preferences should be ruled by what suits you more rather than what you think looks good. You should base your choices around what material is friendly to your skin. Every person has a completely different feel of the fabric. Nobody is asking you to sacrifice your precious silks, but when you're looking at everyday use, there really is no replacemeant for cotton lingerie. "Sheer-mesh" is exciting, makes you look and feel sexy. However, it's a complicated little thing, not exactly for that good "hold".
The color game
Some colors simply look more stunning in plus size lingerie, perhaps this is a personal preference but, it is. Pinks and lighter toned babydolls and balconettes look amazing in plus size lingerie. There are so many brilliant color options these days, take a trip of "Hips and Curves" to verify this and you will find yourself falling in love with quite a few pieces.