Wondering what Pantone is? It's basically the official authority on color matching, which is why they declare a color of the year, annually. You will see the color being reflected in almost everything from different aspects of fashion, beauty and designs. Naturally, the color is used and incorporated by the lingerie industry. Last year's color was radiant orchid; a lovely color with many great results. You must have seen the catwalks and sidewalks showcasing this unique color in a variety of ways. This year's color is an earthy tone of "Marsala". The color is rich in texture and has beautiful possibilities.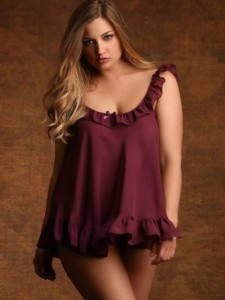 The Pantone color for 2015 is elegant and sexy!
Marsala is the right amalgamation of sophistication and glamor. Best part about this year's color is that it is very flattering to almost all skin tones, a little more so for darker skin perhaps, but, that's open to discussion. Marsala offers warmth to the skin and the lovely texture induces a glowing look, to whatever it is that you're wearing. Just imagine the possibilities it has in lingerie! Update you're lingerie drawer with this fabulous shade, if you haven't already. Pantone always gives out a unique shade; one that is almost always, an instant favorite. The more designers and companies play and explore the tone, the better the color shines. This year Marsala has inspired some jaw dropping selections.
Marsala favorite! Stella McCartney Mathilda Giggling Silk Bodysuit via Neiman Marcus
Looking for constant groove? This might just be it for you. The highly glamorous body suit by Stella McCartney comes with a rather deep plunging neckline; if you're comfortable, this is a bold and daring look that you don't want to miss. You will be able to enjoy the tasty mix match of Japanese Leavers lace along with the silk blend that adds elegance and sophistication to the entire set.
The vibrant bra by "Bestform" is definitely an upgrade for your everyday lingerie. You'll love the vibrancy in terms of texture as well. The bra is of balconette style and consists of intricate detailing. You'll notice floral embroidery on top of the bra cup along with highly textured straps. The dainty bow adds additional detail to the bra along with that little spice missing from the center and the straps. Make your days sweeter with this full cup bra.
Calvin Klein Plunge Push Up Bra and Hipster via Bloomingdales
This piece from Calvin Klein is a definite winner. It offers you the right kind of push and plunge with an accentuation of your natural shape, that's to die for. The beautiful color and the shine add that bit of glitz that makes this bra an excellent purchase.
This piece, in particular, is for the plus sized ladies out there. Plus sizes have seen a revolution in the last couple of years and the lingerie selections too has become more diverse. This piece is bound to make you fall in love, with your body! You should be able to vamp up your wardrobe in accordance with this color trend as well. This sweet piece by baby doll is flirty and soft. The flirty look is created using a ruffled neckline along with a bum skimming hem. The complete look is plain gorgeous and with a matching set of stockings or the right G-string, this is a killer.