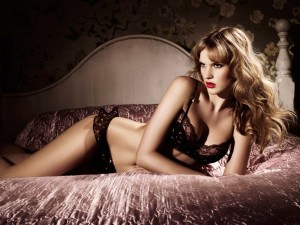 What's the first thing that comes to your mind when you hear 'lingerie'? Yes a trail of words like sexy, alluring, seducing and what not. The thing about lingerie today is that it matters to us for all the wrong reasons and if you're looking for the right reasons then here's what you need to know. As unbelievable as it seems, lingerie exists outside the world of sex. It's merely a side benefit if your man likes the lingerie you choose and wear, but a side benefit is all it is.
The lingerie that you choose for yourself is important just because it's a depiction of your choice and taste. In all my years of wearing and buying lingerie, the most important piece of advice I ever got was in a dressing room at a lingerie store, as I stood awkwardly in the dressing room in the white lace lingerie piece I had selected, the assistant in the store came to my savior. As she saw me confused and unable to decide, she was confident.
I was struggling to decide whether the lingerie fit my husband's choice and so she gave me the golden advice: Try focusing on how it feels rather than how it looks.
Start feeling comfortable
I bought the white lace lingerie set because I felt amazingly comfortable in it and guess what? My husband loved it too. Then I realized that it was the confidence that I got from my new found comfort that was responsible for the spark between me and my husband. From then on, whenever I went for lingerie shopping I never worried whether my figure would do justice to the lingerie I chose or not, I only worried about my comfort. The one thing that all women must realize is that they key to pulling off the sultriest of styles is self-confidence and comfort.
Be confident and be Your self
Avoiding pretty undergarmeants will never help you feel confident about yourself, the only way you would ever feel completely comfortable in the most sexiest undergarmeants is by buying them. Once you start feeling comfortable in your lingerie, all your second thoughts about your figure and pulling off sexy lingerie fade away and you feel super confident! The one best lingerie favor you can do for yourself is buy everything and anything you're comfortable in, without considering the likes and dislikes of your man. Don't just choose what he likes, find common grounds of comfort and build a healthy relationship of mutual attraction.