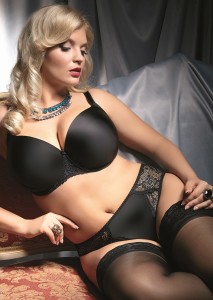 In today's world it's easier to fool people into conforming to a particular set of ideas. All you need, to be convincing, is to advertise that idea on popular media, magazines or make someone important endorse it. However, if you're curious and are constantly challenging the "standard explanation" chances are you are enjoying life and (as is the topic here) Lingerie. It's quite amusing how many myths exist around lingerie alone! Here are a few that need to be broken.
Luxury Lingerie is Expensive
Yes, some designer brands are expensive, some are downright outrageous. However, it's a complete myth that all lingerie is expensive or that a lingerie luxury is unaffordable. The lingerie industry is not a small one; there is a variety of brands that offer luxury items and are still affordable, not cheap, but within a reasonable range. Another way to go about shopping shamelessly expensive luxury brands are sales, offers and discounts. Lingerie costs are not so high that you can't treat yourself to a decent set or a gorgeous nightie every now and then. The best part of these is that they won't be damaged even after 2 years of intensive use.
Luxury Lingerie ≠ Plus Sizes
It's a common belief that designer clothes for sizes above 12 are impossible to find. This statemeant holds true but, there has been a great deal of progress in this direction. You might not believe it but luxury lingerie for the curvy ladies is out there. There are plenty of brands that offer amazing luxury lingerie for plus size ladies. If you're looking for plus size gorgeousness check out Hips & Curves for great variety on lingerie and dresses!
Maternity Lingerie Can't Be Fun
OK, this is a ridiculous notion which has its rightful place in the middle ages, which is where it belongs. Being pregnant does not mean that your lingerie loose life and color. New or expecting mothers don't have to raid their grandmother's drawer for something comfortable, supportive or beautiful. If you're a new mommy you deserve beautiful lingerie even more! Lingerie makes you feel better about yourself, so don't settle and keep going lingerie shopping every now and then, being a mother is not a deterrent for anything.
Men Don't Know Lingerie
While its might not be their best subject, there are men who love and understand lingerie. Women like to believe that men don't know female underwear but there are men that are not only well versed but, have impeccable taste. If only because they have been buying presents for their partners. A lot of men instantly "like" the look of any lingerie that fits you snugly or brings out the shine of your hair or the color of your eyes, which means that they are not as clueless as we might think them.